APA1200DSP 1200 watt Subwoofer Power Amplifier with Integrated Digital Signal Processing
Quick Overview
Power meets control with Dayton Audio's APA1200DSP Power Amplifier. It features powerful built-in DSP that would normally be handled with another piece of equipment; all in a convenient web-based control interface. Perfect as an amplifier for full-range speakers or subwoofers, this digital amplifier is an extremely powerful and infinitely configurable solution for the ultimate listening experience. 1200 watts of class D power in a bridgeable amplifier means that it can power the most power-hungry full-range speakers or the biggest and baddest subwoofers that you can find.
Product Highlights
Dual-channel Class D power amplifier with built-in audio processor
Remotely control from any web-enabled device
Extremely efficient 1200W Class-D amplifier
Fully adjustable 8-band EQ, filters, phase, limiter, and delay
Plenty of connectivity with XLR, RCA, and digital coax inputs, and XLR, RCA, and binding post outputs
Connect multiple APA1200DSP units for unlimited control of multiple zones of speakers, subwoofers or complete surround sound systems
Product Manuals / Spec Sheets / Downloads
Dayton Audio APA1200DSP User Manual
Dayton Audio APA1200DSP Updater and Firmware
Buying Options
The APA1200DSP is a powerful and versatile solution to power any speaker system. Don't get stuck with a large collection of equipment and a tangle of cables to connect it all. The built-in Audio Engine of the APA1200DSP provides detailed control of every aspect of the sound. A full-featured DSP includes EQ, filters, phase adjustment, and delay all in an easy-to-navigate interface. This 1200 watt Class-D amplifier is ready to bring new life to any system.
Efficient Class D Amplifier Technology
Low on noise and high on power, the APA1200DSP uses ultra-efficient Class D amplifier technology. Digital amplifiers use a high-speed switching technology that is more efficient, generates less heat, and draws less power than traditional Class A/B amps. With 1200 watts of power the APA1200DSP will power the biggest and baddest speakers you can find and provide clean.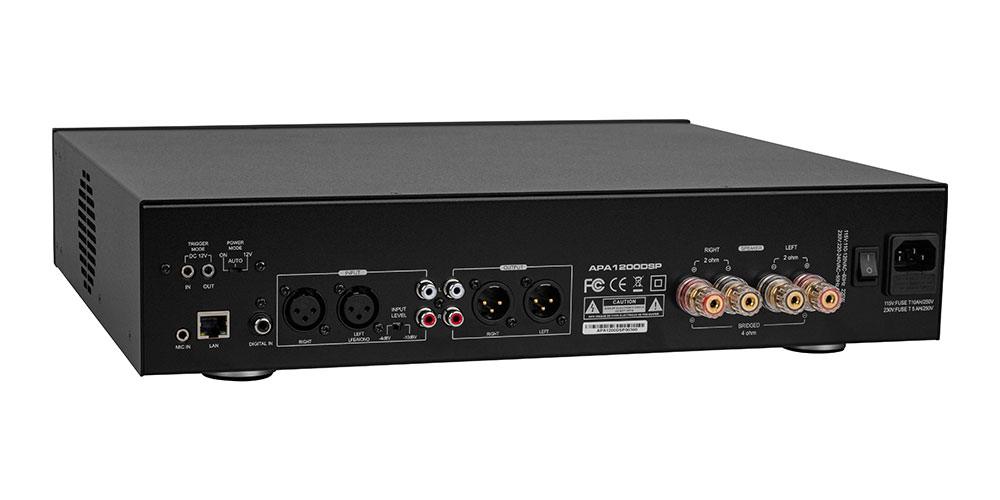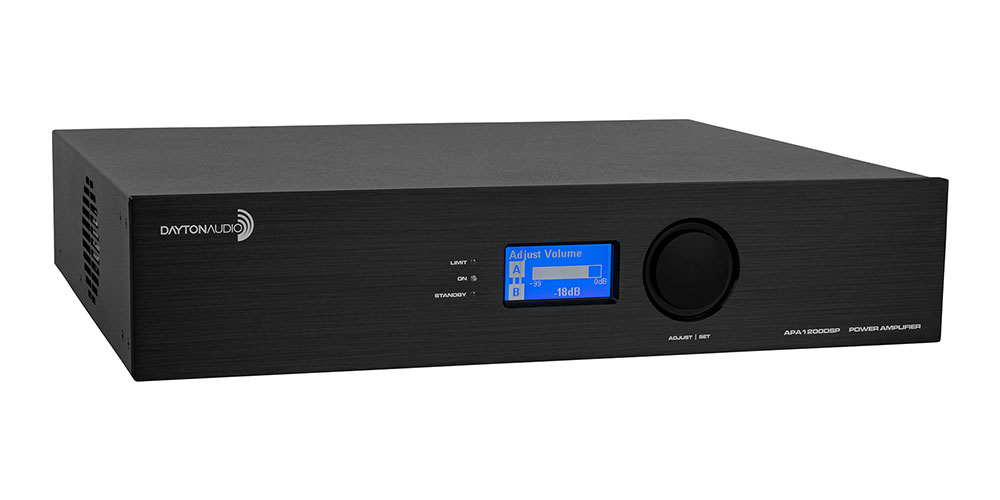 Power meets control with cutting edge features
Packed with modern, cutting-edge features, this is more than just another powerful amplifier. Gone are the days of needing to have a massive stack of equipment to have excellent sound. The APA1200DSP combines a whole collection of equipment into one complete package. The full-featured digital engine at the heart of the APA1200DSP includes an 8-band EQ, Limiter, Phase and delay adjustment, and an adjustable crossover.
Powerful and Simple DSP control
Tuning an audio system can sometimes be a strenuous task where the equipment isn't located where you are listening to it. In addition to the front panel controls, the internal software on the APA1200DSP puts complete control of every setting at your fingertips with a convenient web-based control interface. This truly universal control interface works on any web browser; eliminating the need to install mobile apps and can even be run from any computer. Multiple units can be installed on the same network and user-defined presets can easily be saved for future use and transferred between units for a truly awesome experience.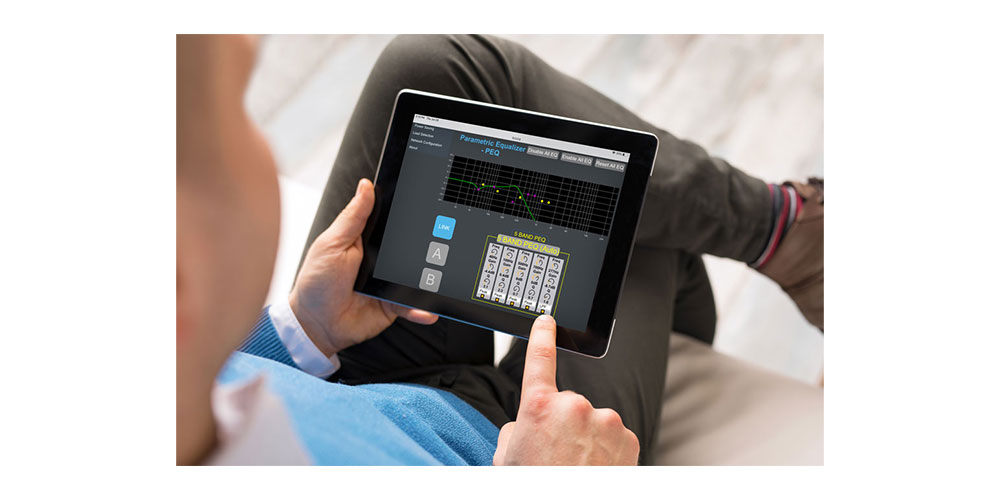 Auto EQ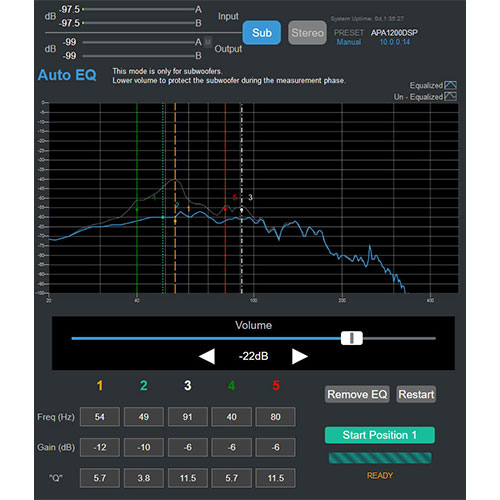 Setup is easier than ever as the APA1200DSP can automatically adjust a 5-band parametric EQ to best suit subwoofers being used and the room they are in. It's like hiring a sound engineer, but without the house call. Just connect the included calibration microphone and let the low frequency auto EQ configure the APA1200DSP for optimized subwoofer performance in any room.
8 Bands of Parametric EQ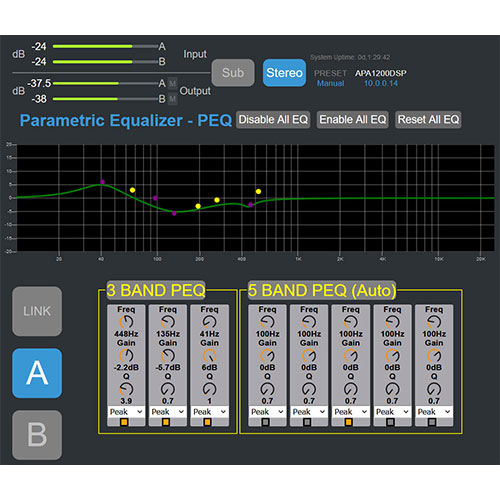 In addition Auto EQ the APA1200DSP has three additional EQ bands for a grand total of eight bands of fully parametric EQ. All bands include a 0.4 to 14 continuously variable Q, and range from 20Hz to 20kHZ with -12dB to +6dB of adjustment. Each of the five bands controlled by the Auto EQ can also be adjusted to operate as high and low pass filters, bass and treble shelves, or notch filters; providing supreme control of the system EQ.
Built-in Limiter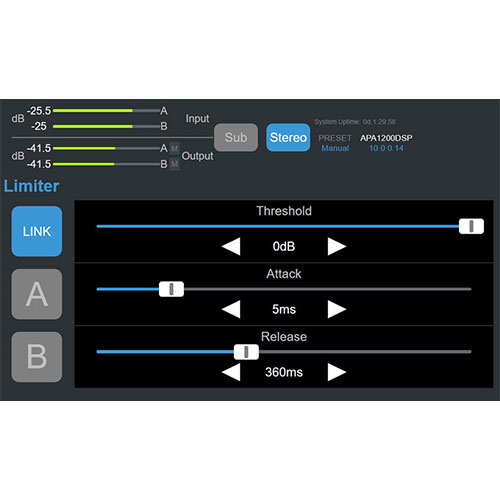 With 1200 watts of power it can sometimes be easy to overpower your favorite speakers. The built-in limiter allows for complete control and easy protection of any speaker. Full control of threshold, attack, and release can be independently applied to each channel or linked for stereo control.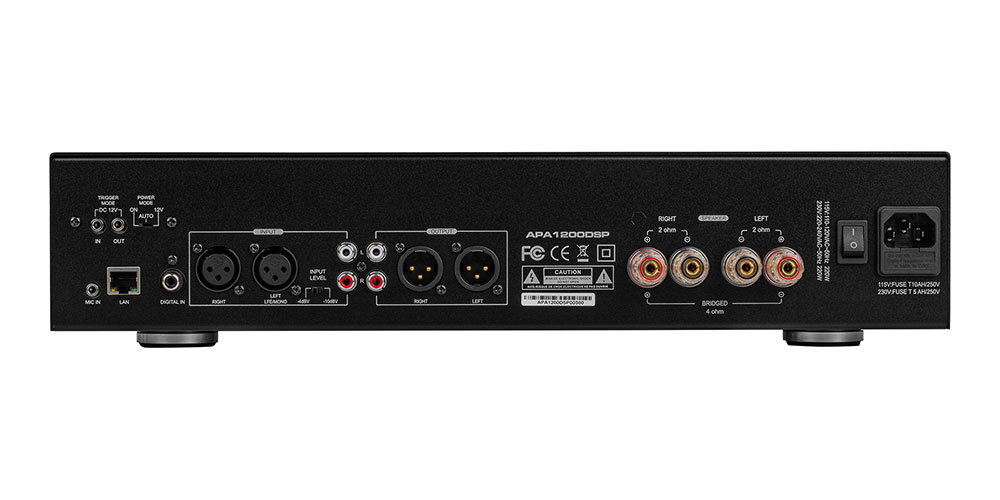 The APA1200DSP is built for connectivity. The Input section accepts +4dB and -10dB line-level signals on either stereo RCA connections of Balanced XLR as well as digital audio on a Coaxial SPDIF connection. Ensuring compatibility with almost any source, these inputs are mirrored on the XLR and RCA outputs for building an expanded system with multiple zones or subwoofers. The two amplified channels can power 2 ohm, 4 ohm, and 8 ohm speakers in stereo and can be bridged to power 4 ohm speakers at 1150 watts. Additionally, the APA1200DSP features an ethernet port for connecting to a data network, and 12 volt trigger inputs and outputs for integration into automated systems.
Please check that the unit is running the most recent firmware V1.7 by visiting the About Page in the Web GUI. If you are not running V1.7 yet, please visit the downloads tab to access the update instructions for the APA1200DSP. NOTE: You must have a PC running Windows with access to an ethernet port to be able to update the firmware on the APA1200DSP.
| | |
| --- | --- |
| Model Number | APA1200DSP |
| Color | Black |
| Unit of Measure | Each |
| UPC | 848791007729 |
| Warranty - Parts | 5 Years |
| Warranty - Labor | 5 Years |
| Product Shipping Weight (lbs.) | 23.65 |
| Product Height | 3.75" |
| Product Width | 17" |
| Product Depth | 15" |
| Amplifier Type | Power Amplifiers |
| Number of Channels | 2 |
| A/D Resolution | 24-bit/48kHz |
| Inputs | XLR x 2, RCA x 2, Coax (SPDIF) x1 |
| Ouputs (line) | XLR x 2, RCA x 2 |
| Outputs (powered) | Stereo binding posts x 2 |
| Output Power (Stereo @ 2 Ohm) | 410 W x 2 RMS |
| Output Power (Stereo @ 4 Ohm) | 240 W x 2 RMS |
| Output Power (Stereo @ 8 Ohm) | 200 W x 2 RMS |
| Output Power (Bridged @ 4 Ohm) | 1160 W |
| Input Sensitivity Voltage | 0.316 VRMS @ -10 dBV, 0.631 VRMS @ -4 dBV |
| Max Input Level Voltage | 1.8 VRMS |
| Frequency Response | 20Hz to 20kHz |
| Frequency Deviation(20-20kHz) | 3 dBRMS |
| Signal-to-Noise Ratio | 96 dB (A-weighted) |
| THD @ Rated Power | 0.74% |
| Auto-on Sensitivity | 10 mVRMS |
| Parametric EQ | Yes |
| Phase Adjustment | Yes |
| Low-pass Crossover | Yes |
| Low Pass Adjustment | 0° to 180° |
| Bass Boost | Yes |
| Voltage Requirement | 115V/60 Hz, 230V/50 Hz |
| Power Consumption (Standby) | <2W |
| Power Consumption (Idle) | 17.5W |
| Power Consumption (Max) | 1600W |
| Weight | 16.2 lbs. |
| Dimensions | 17′′ W x 15′′ D x 3.75′′ H |
| Special Features | network control, DSP, auto-on |