MK442 Dual 4" 2-Way MTM Speaker Pair
Quick Overview
The impressive sound quality offered by the Dayton Audio MK442 MTM is awe-inspiring. It is able to reproduce frequencies as low as 60 Hz, and offers a natural sound with excellent sonic detail. The 3/4" soft dome tweeter paired with two 4" treated-paper cone woofers is a pairing made in audio heaven.
Product Highlights
Dual 4" treated paper woofers optimized for low-frequency extension
3/4" silk dome tweeter offers airy top end to create a beautiful ambiance
Wide dispersion for impressive room-filling sound
Attractive textured black vinyl finish
Includes two MK442 center channel speakers that can be turned on their side for bookshelf speaker configuration
Product Manuals / Spec Sheets / Downloads
Dayton Audio MK442 User Manual
Buying Options
The aesthetic appeal of the MK442 is unquestionable and the same can be said for its ability to provide the listener with fantastic sound quality. You are sure to be impressed with the performance of the MK442, along with its price.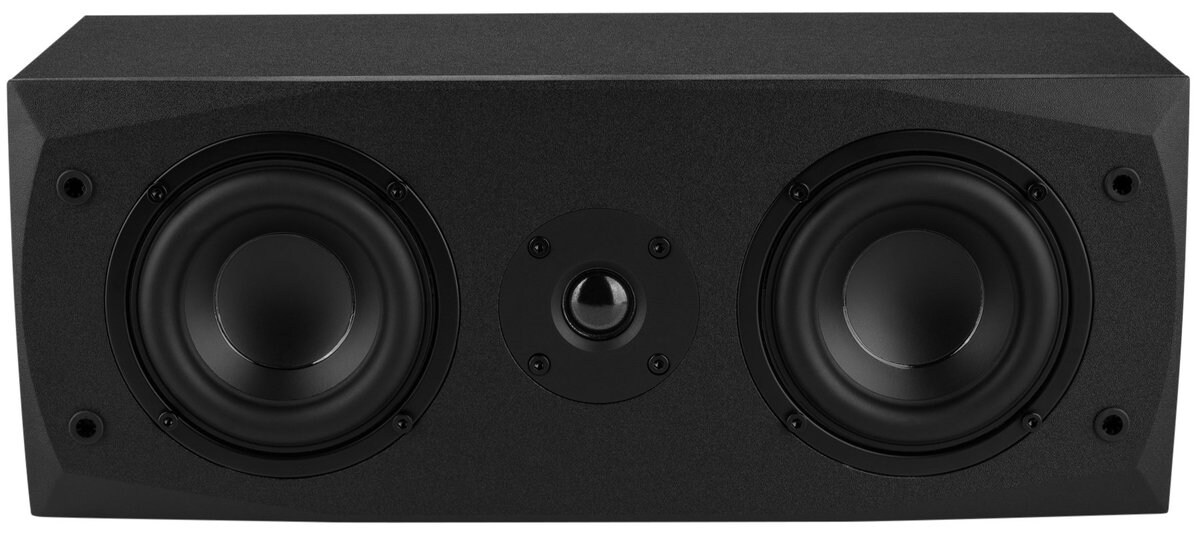 The Centerpiece of Your Home Theater
The MK442 features an attractive textured black vinyl finish that stands out at first glance. The cabinet offers a unique geometric design for the baffle that sets it apart from much more basic speakers in its price range. The grill is removable and made with a high-quality black cloth that discretely obscures the most appealing features of this design, the drivers.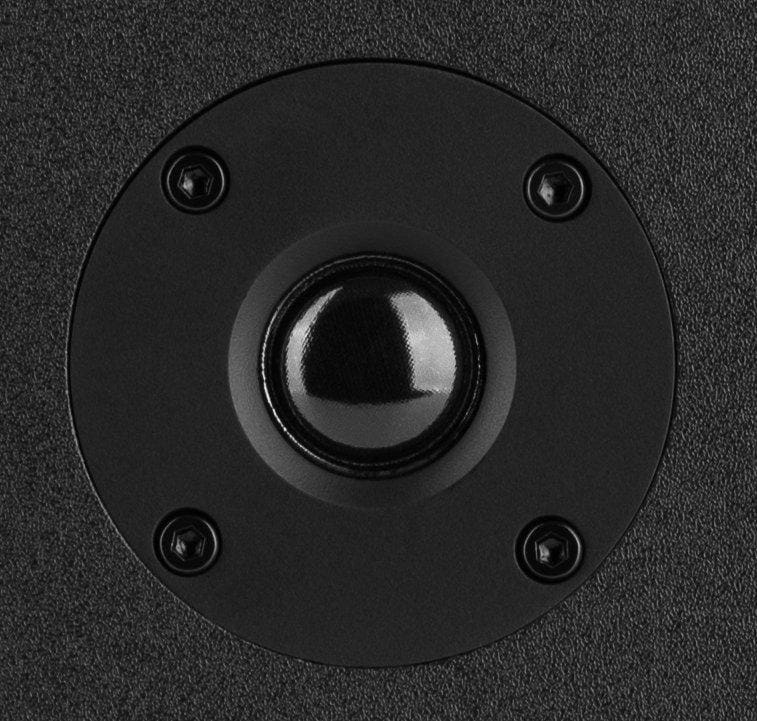 Elegant 3/4" Silk Dome Tweeter
The 3/4" tweeter is elegant with a very airy top-end that can be appreciated by anybody that enjoys the delicate side of music that is often left behind by most speakers. The dispersion from this tweeter provides a life-like ambiance that truly sets a scene in a movie.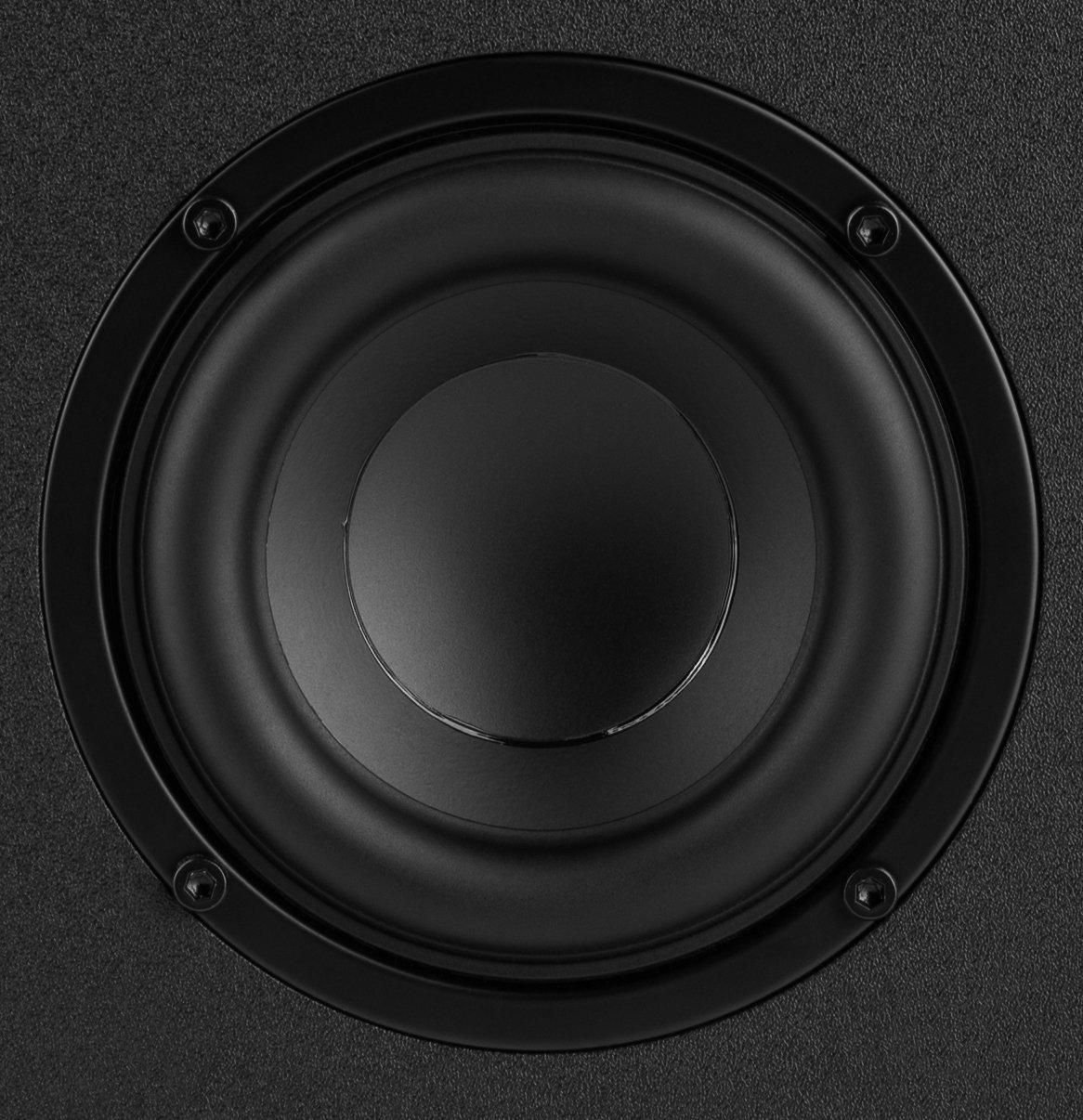 Impressive Low Frequency Extension for a 4" Woofer
The woofers used in the MK442 are able to play down to 60 Hz with ease. A 4" woofer playing low frequencies would normally limit the upper frequency range, which is not the case here. The woofers play through a large portion of the vocal range, adding coherency and smoothness to voices.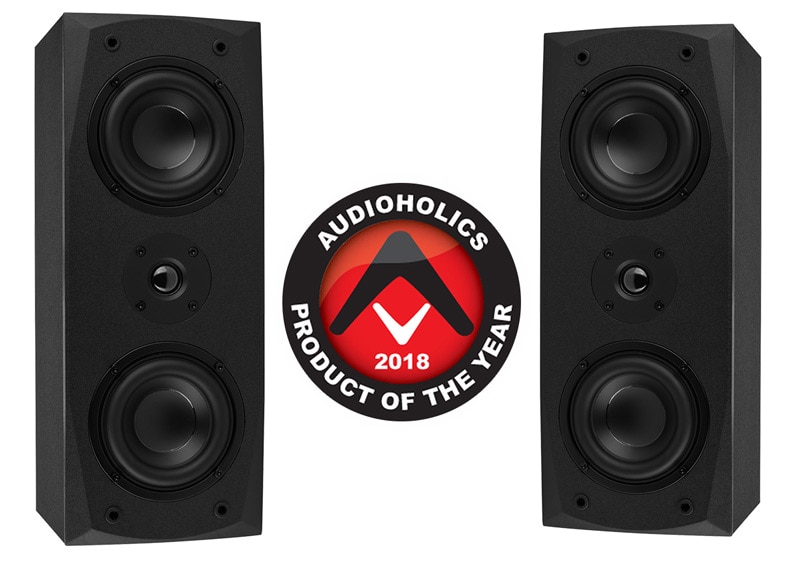 Use Two Together in an Upright Position
"…an LCR speaker that can be used as easily as a center channel speaker as front left/right channel speakers. The MK442 has a nicely balanced tonality, very good bass extension for the size and price, good power handling, with a benign electrical load…The Dayton Audio MK442s prove that the entry fee into good sound doesn't have to cost a small fortune."
– Audioholics.com, 2018 Product of the Year: Budget Bookshelf Speaker
Read the full review on Audioholics.com
Combine with the MK442 MTM center channel for an awesome LCR speaker system! Click here to view
Note: The pair contains two center channel speakers that can be used as traditional left / right bookshelf speakers.
Note: When standing on end the logo on the grill will be inverted.

Specifications: • Woofer: 4" treated-paper cone with 4-layer voice coil • Tweeter: 3/4" soft dome with ferrofluid cooling • Finish: Black ebony pica vinyl on MDF • Power handling: 80 watts RMS/160 watts max • Impedance: 4 ohms • Frequency response: 60-20,000 Hz • Sensitivity: 86 dB 1W/1m • Crossover: Third order high-pass; second order low-pass • Terminals: 5-way binding posts • Port tuning: 57 Hz • Dimensions: 5.75" H x 14.94" W x 6.6" D*

*Depth includes removable grill

| | |
| --- | --- |
| Model Number | |
| Unit of Measure | Pair |
| UPC | 848791006128 |
| Warranty - Parts | 5 Years |
| Warranty - Labor | 5 Years |
| Product Shipping Weight (lbs.) | 17.4 |
| Product Weight | -- |
| Product Height | 5.75" |
| Product Width | 14.94" |
| Product Length | -- |
| Product Depth | 6.6" (depth includes removable grill) |