BST-1 High Power Pro Tactile Bass Shaker 50 Watts
Quick Overview
Add a 4th dimension of sensory experience to your home theater by installing a BST-1 Bass Shaker from Dayton Audio! Start feeling what you've been missing!
Product Highlights
The ultimate home theater gadget!
Add realism to your movies, games, and music
Amazingly affordable price
Easy to install
Product Manuals / Spec Sheets / Downloads
Dayton Audio BST-1 User Manual
Dayton Audio BST-1 Drawing
Buying Options
The human ear has the ability to hear a wide range of sounds, however, some sound is simply too low to hear and must be felt through the body. Feeling this extremely low frequency sound adds a new dimension to your listening, gaming, and movie experiences.
With a Dayton Audio BST-1 Bass Shaker installed in your home or auto sound system, you'll feel those low bass notes or the thundering weight of a dinosaur's foot slamming against the ground as it approaches. Your favorite action movies will come to life as you feel the cannon blasts and explosions impacting your body! If you're into die-hard gaming the BST-1 Bass Shaker is the perfect addition to your gaming chair or couch! The power and impact of a football tackle puts you on the field and in the game! Feel the kick of your proton gun as it fires against the enemy!
Unlike subwoofers, the BST-1 Bass Shaker will not overload your listening area, and the perceived loudness of the BST-1 Bass Shaker improves listening at lower sound volumes. The engineers at Dayton Audio designed the BST-1 Bass Shaker to reproduce accurate, tactile sensations from your music and movie sound tracks. When a BST-1 Bass Shaker is installed on a resonant surface, it increases the portion of tactile sound as being "felt" beyond what is normally produced by subwoofers and ordinary speakers. Conventional subwoofers are traditionally considered optimized when you can feel rather than hear the bass. By using a BST-1 Bass Shaker in your system, this goal becomes easier to achieve -- enabling the subwoofer to perform at a more natural sound level.

A specially formulated nylon/fiber spider and the selection of quality hardware components allow the BST-1s internal motor structure to not only outperform the competition but increase the product lifespan. Simply put, with a Dayton Audio BST-1 Bass Shaker you can count on years and years worth of amazing blasts, shakes, rolls, rattles, rumbles, thumps, bangs, and bumps!


Connecting a Single BST-1 Dayton Audio Bass Shaker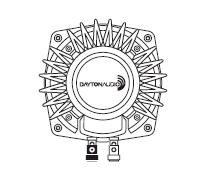 The impedance of the BST-1 Bass Shaker is 4 ohms. When used in a single unit configuration it must be hooked up to an amplifier that is either stereo or bridged mono, the same way you would connect a subwoofer. Please consult the amplifier manual for details regarding the impedance rating of your amplifier.
Connecting Multiple BST-1 Dayton Audio Bass Shakers

Two or four Dayton Audio BST-1 Bass Shakers can be used in situations where more bass energy is desired or in larger applications. Connecting two in Series configuration will raise the impedance to 8 ohms, connecting two in Parallel will lower the impedance to 2 ohms, and wiring four BST-1 Bass Shakers in Series-Parallel will keep the overall impedance to 4 ohms. Again, always consult your amplifier's owners manual to verify it has the power capability that produce the wattage safely at various impedances. WARNING: Do NOT exceed 50 watts RMS per Bass Shaker multiplied by the number of Shakers (example: 50 x 4 = 200 Watts RMS)
Installation Notes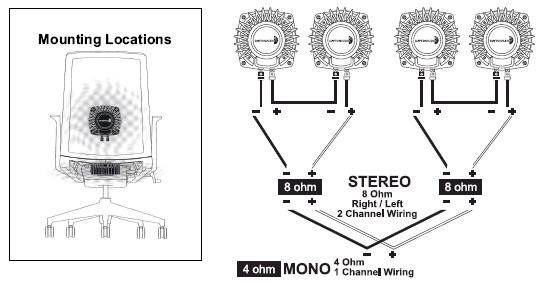 HOME – Mounting the Bass Shaker to chairs or couches that are not fixed to the floor will provide the greatest effects. The Bass Shakers energy will impact the user's body rather than travel through the furniture and disperse the energy into the floor. Isolating the furniture from the floor is highly recommended by using pads or rubber feet. Find a solid mounting area for your Bass Shaker(s) underneath and/or on the rear of the furniture's construction. Use four wood screws or stingers to mount the Bass Shaker to the structure. Should no solid mount exist it is recommended that one be constructed using hardwood or plywood. Try to avoid fabric or padding coming into contact with the Bass Shaker. It is important the Bass Shaker makes full contact with a solid flat surface. Recommended wire gauge is 14-16 AWG speaker wire.
AUTO – Mounting the Bass Shaker under the seats is highly recommended rather than on the seat itself. Move (or remove) your seat forward as far as possible, and identify the spot under the seat that vibrates the most by knocking on the flooring using a rubber mallet or soft hammer. Again, ensuring the Bass Shaker comes into full contact with the floor surface is critical to the performance of the Bass Shaker. Wiring in advance of the installation is recommended. Ensure your wire is without kinks or bends and that no bare wire is touching metal. Use four steel screws or stingers to mount the Bass Shaker to the floor of your vehicle. Recommended wire gauge is 14-16 AWG speaker wire.
WARNING: Always check under carpeted locations and recheck the mounting area so as to not cut or drill into any existing electrical wiring, airbag sensors, hydraulics, brakes, gas, or fuel lines.
ADDITIONAL NOTES AND SUGGESTIONS:
• 80 Hz or under low pass crossover suggested to reduce the possibility of high frequency sounds
• Recommended Amplifiers: Dayton Audio SA70 for single Bass Shakers, Dayton Audio SPA250 for 2 – 4 Bass Shaker installations. For larger installations we recommend the Dayton Audio SPA1000 or SA1000.


Specifications:
High Grade Aluminum Housing
Frequency Response: 10-80 Hz
Fs (unmounted): 30 Hz
Impedance: 4 Ohms
Power Handling: 50 Watts RMS
Peak force: 30 lbs. per ft.
Weight: 3.75 lbs
Dimensions:
5.75" diameter x 2.5" high
Mounting holes 5.5625" center to center
| | |
| --- | --- |
| Model Number | BST-1 |
| Unit of Measure | Each |
| UPC | 848791001710 |
| Warranty - Parts | 5 Years |
| Warranty - Labor | 5 Years |
| Product Shipping Weight (lbs.) | 3.75 |
| Speaker Type | Tactile Transducer |
| Power Handling (RMS) | 50 watts |
| Power Handling (max) | -- |
| Continuous Program Power | -- |
| Impedance | 4 ohms |
| Sensitivity | -- |
| Frequency Response | 10 - 80 Hz |
| Voice Coil Diameter | -- |
| Magnet Weight | -- |
| DC Resistance (Re) | -- |
| Voice Coil Inductance (Le) | -- |
| Resonant Frequency (Fs) | (unmounted) 30 Hz |
| Mechanical Q (Qms) | -- |
| Electromagnetic Q (Qes) | -- |
| Total Q (Qts) | -- |
| Diaphragm Mass Inc. Airload (Mms) | -- |
| Moving Mass Of Diaphragm (Mmd) | -- |
| Mechanical Compliance of Suspension (Cms) | -- |
| Surface Area Of Cone (Sd) | -- |
| Volume of Displacement (Vd) | -- |
| BL Product (BL) | -- |
| Compliance Equivalent Volume (Vas) | -- |
| Maximum Linear Excursion (Xmax) | -- |
| Drivers Mechanical Losses (Rms) | -- |
| Entry / Exit Diameter | -- |
| Surround Material | -- |
| Voice Coil Wire Material | -- |
| Voice Coil Former | -- |
| Basket/Frame Material | -- |
| Magnet Material | -- |
| Overall Outside Diameter | -- |
| Overall Depth | -- |
| Baffle Cutout Diameter | -- |
| Mounting Hole Diameter | -- |
| Bolt Circle Diameter | -- |
| Product Weight | -- |