DTA-100LF Desktop Subwoofer Amplifier with EQ
Quick Overview
The DTA100-LF is a stylish desktop amplifier designed by Dayton Audio specifically for low-frequency application. This low profile amplifier features an ultra-stable DC power supply and optimally designed Class-D circuit topology to give you 100 watts at 4 ohms. Use the three built-in filters to optimize the output and power your drivers to their full capability. After dialing in your tone, the DTA-100LF even manages its own power state with the auto-on feature to function as a true set-and-forget unit!
Product Highlights
Low-profile design looks good and sounds better
70 Watt output at 8 ohms and 100 Watt output at 4 ohms
Adjustable phase, subsonic filter, low-pass filter, and single band EQ
RCA line Inputs and outputs
Auto-on functionality for true set-and-forget operation
Mounting brackets for mounting under desks and tables
With a Dayton Audio 5 year warranty, it's more than a guarantee, it's a promise
Product Manuals / Spec Sheets / Downloads
Dayton Audio DTA-100LF User Manual
Buying Options

No More Compromises
Never choose between size, power, or control ever again
The problem is decades old. Subwoofer amps are either small and powerful, but lack control, or full of features and powerful, but the size of a good sized dog. Now you can have the best of all three worlds with the DTA-100LF. Featuring 100 watts of clean Class D power with a complete suite of filters and phase control, all in a compact package that will look perfect on your desk.
Complete Acoustic Control
Three powerful built-in filters and variable phase adjustment protect, integrate, and tune your drivers into any system.
A low-pass filter can integrate the drivers with your full-range speakers.
A complete single band parametric EQ helps manage peaks from room modes with infinitely adjustable frequency, bandwidth and level adjustment.
Unique to the DTA-100LF, the adjustable subsonic filter provides complete control to protect your drivers from over-excursion and excessive bass.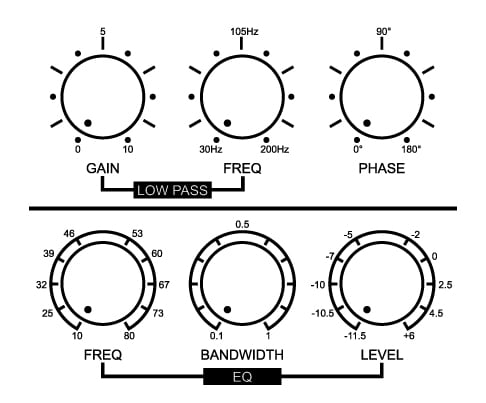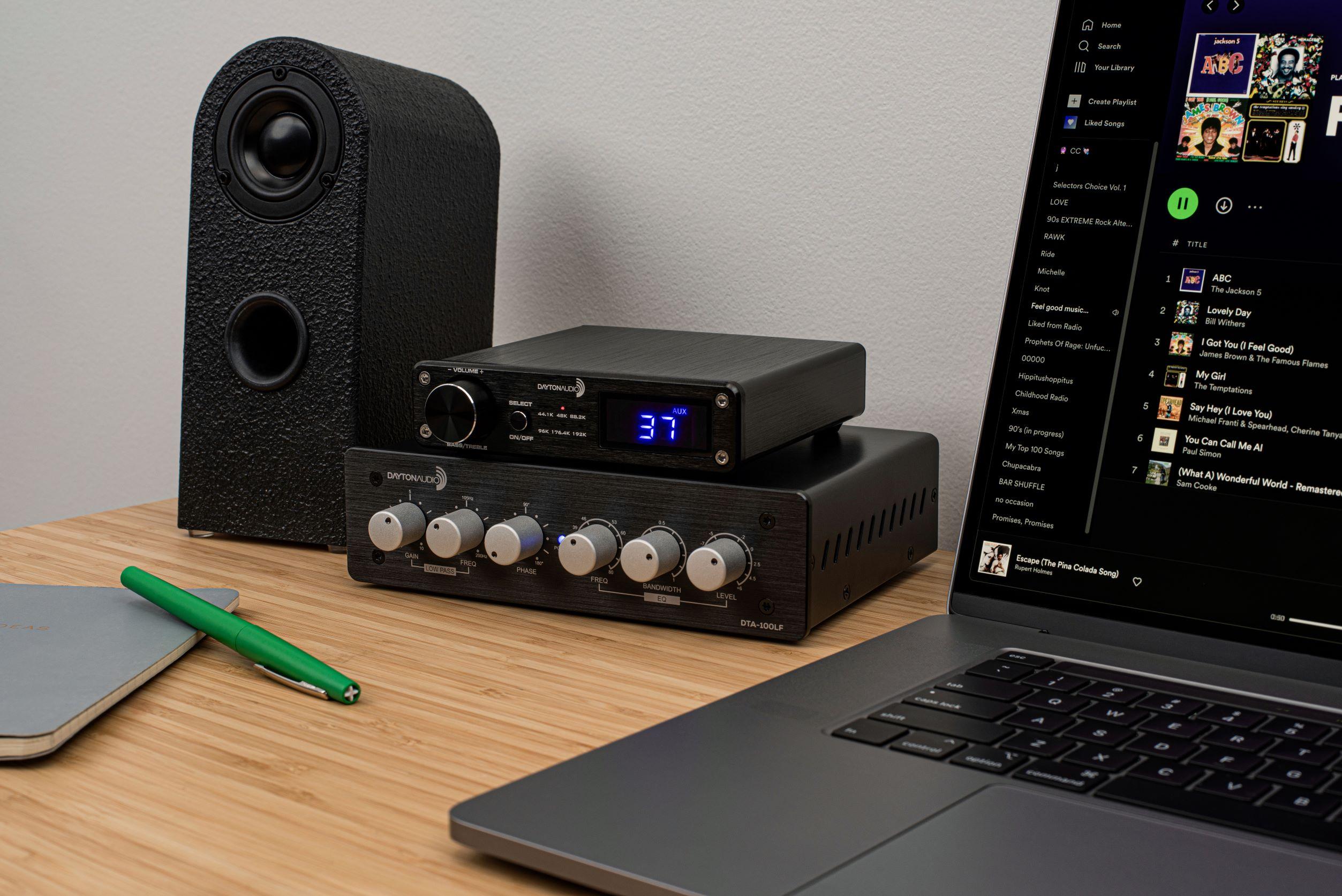 Designed for Desktops
Its compact size makes it perfect for tight locations and desktops where space is at a premium. The included mounting brackets allow you to mount the DTA-100LF underneath a shelf or desk for added convenience. The Dayton Audio DTA-100LF acts as the last piece of your system that gives you complete control over your audio, right where you want it.
Total Integration
Let the music do the work for you, when the DTA-100LF detects signal at its input, it can automatically turn itself on. Once the music has stopped playing, the DTA-100LF will turn itself off automatically to save power. No fuss and no more reaching over your expensive equipment!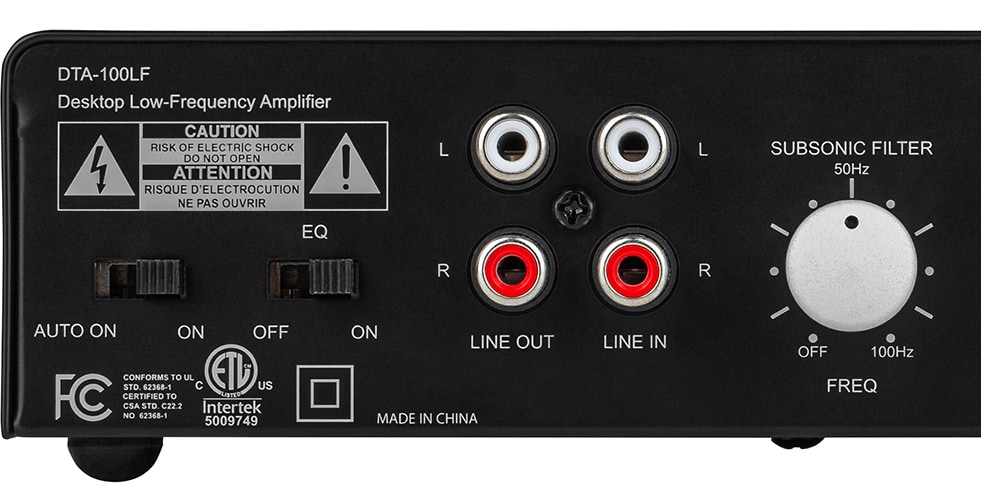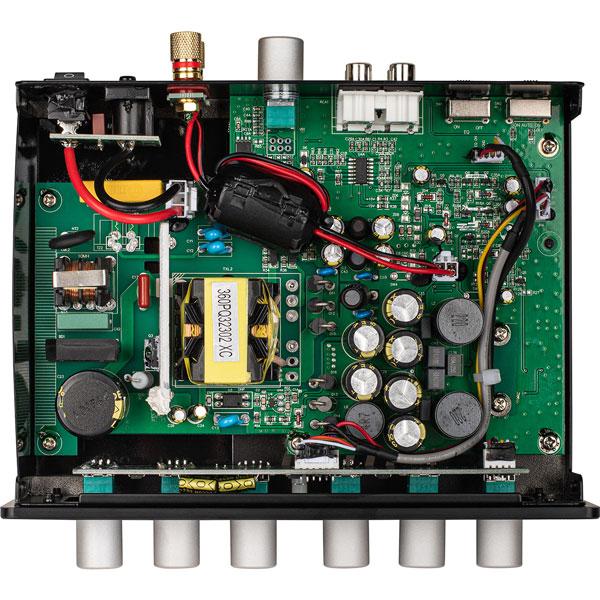 Packed With Power
Designed specifically for subwoofer applications, this low-profile amplifier works equally well for bass shaker duty. A true powerhouse of a device, capable of outputting 100 watts to 4 ohm speakers, the DTA-100LF is an ultra-high-quality Class-D amp capable of competing with pricey, name-brand audio equipment. Powerful, yet very lightweight and compact, the DTA-100LF can give you the output of a much larger, stand-alone subwoofer amplifier.
Specifications
Maximum Output Power: 70 Watts @ 8ohm, 100 Watts @ 4 ohm
THD: <1%
Frequency Response: 20 Hz - 180 Hz +/- 3dB
SNR: 95dB
Input Sensitivity: 200mV
Line Input Connectors: RCA
Line Output Connectors: RCA
Low Pass Crossover Range: 30 Hz - 200 Hz
Phase Adjustment: 0° - 180° Variable
Line Input Impedance: 22 kOhm
Line Output Impedance: 4 kOhm
Power Input Voltage Range: 120 - 240 VAC
Standby Power: 1.8 Watts
Max Power Consumption: 150 Watts
Dimensions (W x H x D): 7.5″ W x 2″ H x 5.5″ D
Weight: 3.3 lbs.
| | |
| --- | --- |
| Model Number | DTA-100LF |
| Color | Black |
| Unit of Measure | Each |
| UPC | 848791008023 |
| Warranty - Parts | 5 Years |
| Warranty - Labor | 5 Years |
| Product Shipping Weight (lbs.) | 3 |
| Product Weight | -- |
| Product Height | 2" |
| Product Width | 7.5" |
| Product Length | -- |
| Product Depth | 5.5" |