KABD-250 2 x 50W All-in-one Amplifier Board with DSP and Bluetooth 5.0 aptX HD
Quick Overview
The KABD-250 combines a 2 x 50W amp board, Bluetooth 5.0 and a ADAU1701 digital signal processor all in one amp board. This enables you to customize your next DIY audio project's sound using SigmaStudio software and Dayton Audio ICP1 Bluetooth programmer.
Product Highlights
All-in-one board design reduces space needed for audio DIY projects
Wire harnesses make installation quick and simple with no soldering required -- includes power, Bluetooth reset button and speaker cables
Separate ports for powering by battery or direct DC input from 12 to 24V power source
Program with SigmaStudio software and Dayton Audio ICP1 (sold separately)
Efficient 2 x 50W of power from the TPA3116 amp chip
Product Manuals / Spec Sheets / Downloads
Dayton Audio KABD-250 User Manual
Dayton Audio KABD-250 Quick Start Wiring Guide
Dayton Audio KABD Series SigmaStudio Programming Guide
Dayton Audio KABD SigmaStudio Example Projects
Buying Options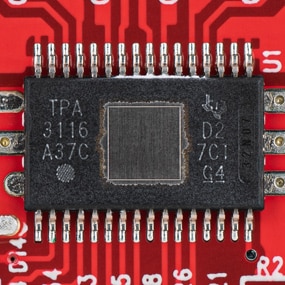 High Quality Audio Performance
The Dayton Audio KABD-250 DSP Amplifier Board delivers high quality sound without drawing a lot power. This is due to the highly efficient TPA3116 Class D amplifier chip. The TPA3116 operates at 88% efficiency, thus eliminating the need for a large heat sink and reducing its overall size. Its high efficiency becomes a major advantage when powering from batteries as it prolongs the playtime of a single charge. Its ultra-low distortion and pop-free performance make this hi-fi amplifier board an integral asset in any quality audio build.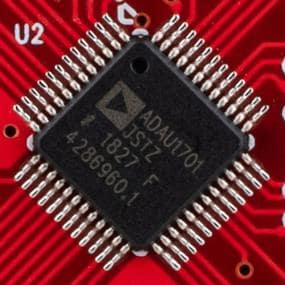 Integrated DSP Chip
Unlike other amplifier boards, the Dayton Audio KABD-250 includes a built-in ADAU1701 DSP chip. Create nearly limitless possibilities of EQ, crossover, bass enhancement, time alignment and more thanks to the ADAU1701 DSP chip. Make advanced crossovers with ease without circuit knowledge, capacitors, inductors, or preamp boards, and get almost immediate feedback on how your project sounds. SigmaStudio software and Dayton Audio DSPB-ICP1 programming board (sold separately) combine together to let you set audio parameters to produce hi-fi quality sound. Download SigmaStudio into your desktop or laptop computer and plug the small ICP1 board into the USB port using a micro USB cable (sold separately). To quickly adjust the sound there are four potentiometers on the KABD-250 amp board.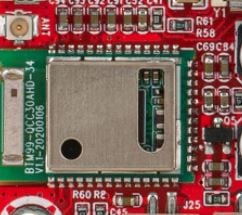 Integrated Bluetooth
The Dayton Audio KABD-250 includes a built-in Qualcomm Bluetooth 5.0 module with aptX HD. The aptX HD streaming audio quality rivals that of CDs since the Bluetooth chip supports aptX, aptX HD, aptX LL, SBC & AAC. The advantage of Bluetooth 5.0 is its long 15m (50 ft.) wireless range and its low power consumption which prolongs the playtime of battery-powered builds. On board external antenna jack enables the KAB board to be mounted in a metal enclosure with an external antenna (sold separately). Designed and built for Bluetooth demonstration purposes, this fully functioning module provides a turn-key approach to Bluetooth certification for consumer goods. If the application of this board is for the hobbyist or industrial purposes then nothing is required to enjoy the full convenience of pairing and streaming high quality Bluetooth audio. The KABD-250 is also CE and FCC ready for certification purposes.
Included with the KABD-250 are three wire harnesses: one for DC power, Bluetooth reset button, and the other for connecting to stereo speakers. For many users, these cables are all that is needed to complete a project. Since they have additional on board connectors, wiring harnesses (sold separately) are available to speed-up installation and create confident connections without soldering. Dayton Audio also offers a variety of accessories with robust features to make installation even easier. Find out more about optional accessories below.
Endless Applications
Use this full function, adjustable amplifier board with built-in DSP chip and Bluetooth5.0 in endless wireless audio applications that seem impossible to produce the right sound quality. So if you're a hobbyist or manufacturer enjoy presetting this full functioning 2 x 50W DSP amplifier board to peak performance in your finished product. The KABD-250 is also CE and FCC ready for certification purposes.
To add more channels to your project use the line output socket with another amp board using wiring kit KABD-SPF (sold separately). Examples of applications include: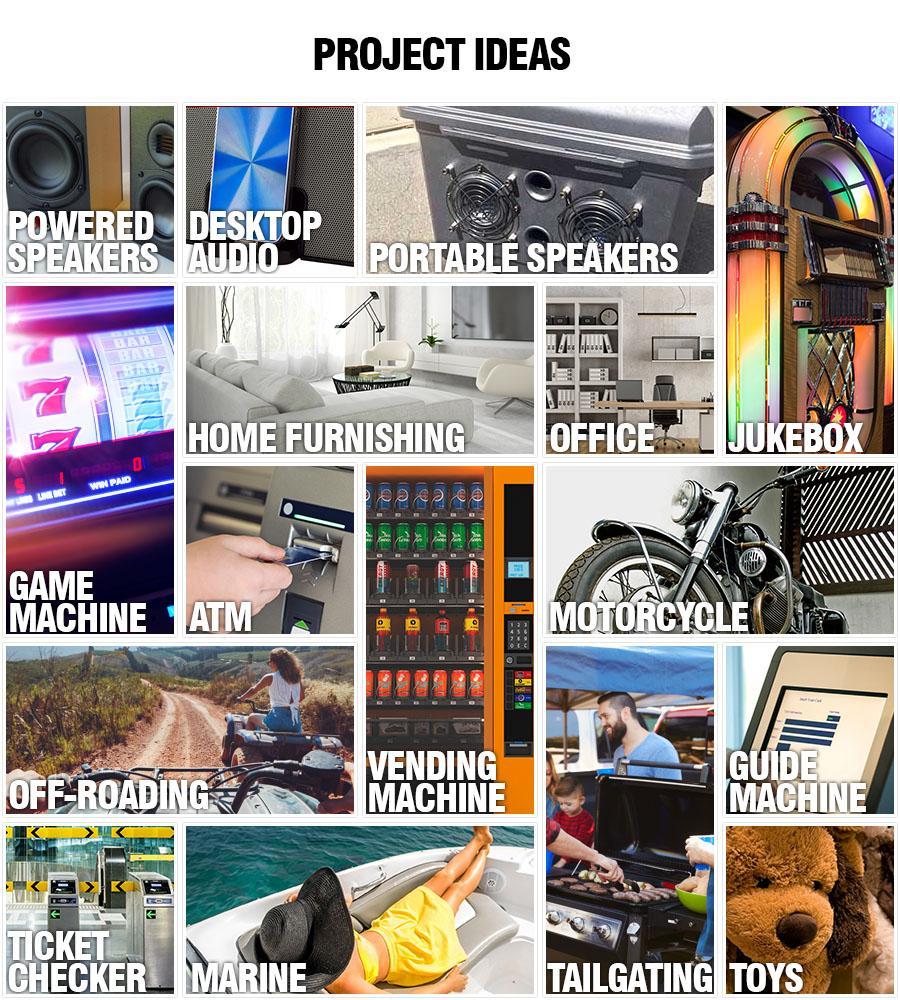 Portable Power Paths
For portable applications, there are three battery holder/charging boards which permit the connection of li-Ion rechargeable batteries to power the board. First is the Dayton Audio LBB-3v2 3-cell 18650 battery holder/charger board that is the same size as the KABD-250 which makes it easy to stack the boards with standoffs. This battery board must use a 5 to 24 VDC power supply.

If you desire more wattage output, use the 5-cell 21 VDC Dayton Audio LBB-5Sv2 or LBB-5v2 board. They work with 5 to 24 VDC power supplies. The LBB-5S uses 18650 Li-Ion batteries, and the LBB-5 uses 26650 Li-Ion batteries which delivers more play time. These portable power sources are highly recommended since all three provide under/over voltage protection.

Please note: To achieve power output briefly plug in the recommended power supply into the battery boards after the batteries are installed or when the batteries are removed and reinstalled.

Package Includes
One Dayton Audio KABD-250 DSP Amplifier Board
One 2-conductor power cable 20"
One 4-conductor speaker cable 20"

One Bluetooth reset push button with cable 20"

Specifications:
Power output (w/ 24 VDC power supply): 2 x 50W @ 4 ohms
SNR: 88 dB 2 x 50W @ 4 ohm, THD+N=1%, 26 dB, A-weighting
2 x 50W @ 4 ohm, THD+N = 1%, 200 Hz

THD+N: 0.06% 10W @ 4 ohm 1 kHz 24 dB

Frequency response: 20 to 20,000 Hz (±3 dB)

Impedance: 4-8 ohms

Recommended power supply: 12 to 24 VDC, 4A

Board mounting holes center to center spacing: 3.32" x 2.4" (84 x 61 mm)

Hole diameter: 0.14" (3.5 mm)

Dimensions: 3.6" L x 2.7" W x 0.9" H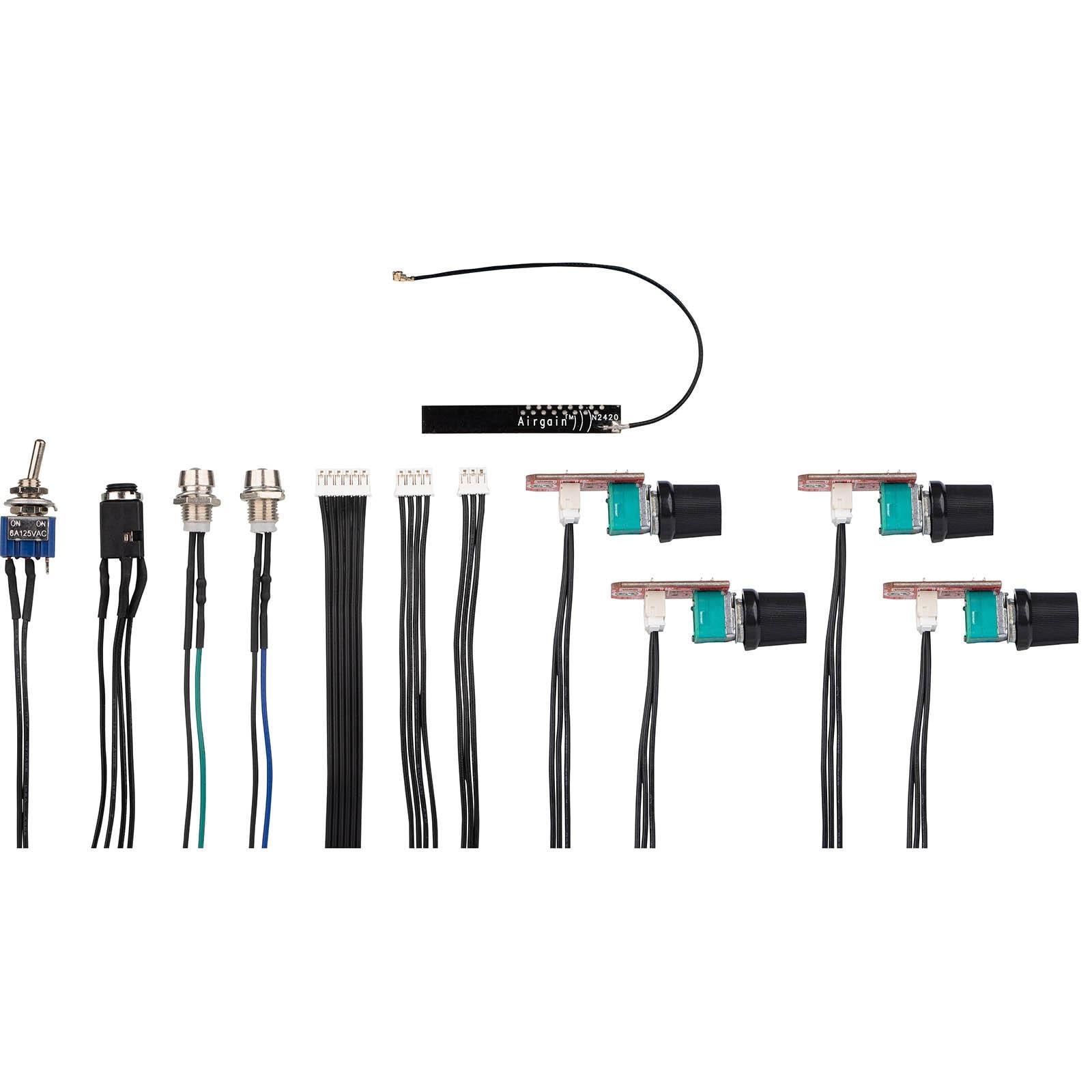 Optional Function Cables
Use the
KABD-SPF
cable kit to customize any Dayton Audio KABD project. Each wire harness comes equipped with mini connectors for easy termination to the board, and each cable is 20" in length.
The 6-wire 6-pin AUX line output cable enables you to add up to two more channels for 2.1 or 4.0 audio projects.
Use the 3-wire cable for standby and mute functions.

The 4-wire battery cable is for portable projects where AC or 12 VDC car power are not available. This cable plugs directly into all the Dayton Audio LLB series battery boards.

2-wire Blue Bluetooth status LED and 2-wire green signal LED to keep you informed.

Add an optional SPST unmarked switch (sold separately) to the 2-wire on/off power cable to cut power to the entire board.

3-wire, 5-pin 3.5 mm AUX-in cable with jack provides a way to play music with non-Bluetooth devices.

Four Potentiometers with 3-wire harnesses and knobs extends sound customization when programmed with SigmaStudio.

External Bluetooth antenna with adhesive mounts outside metal enclosures to extend the Bluetooth range.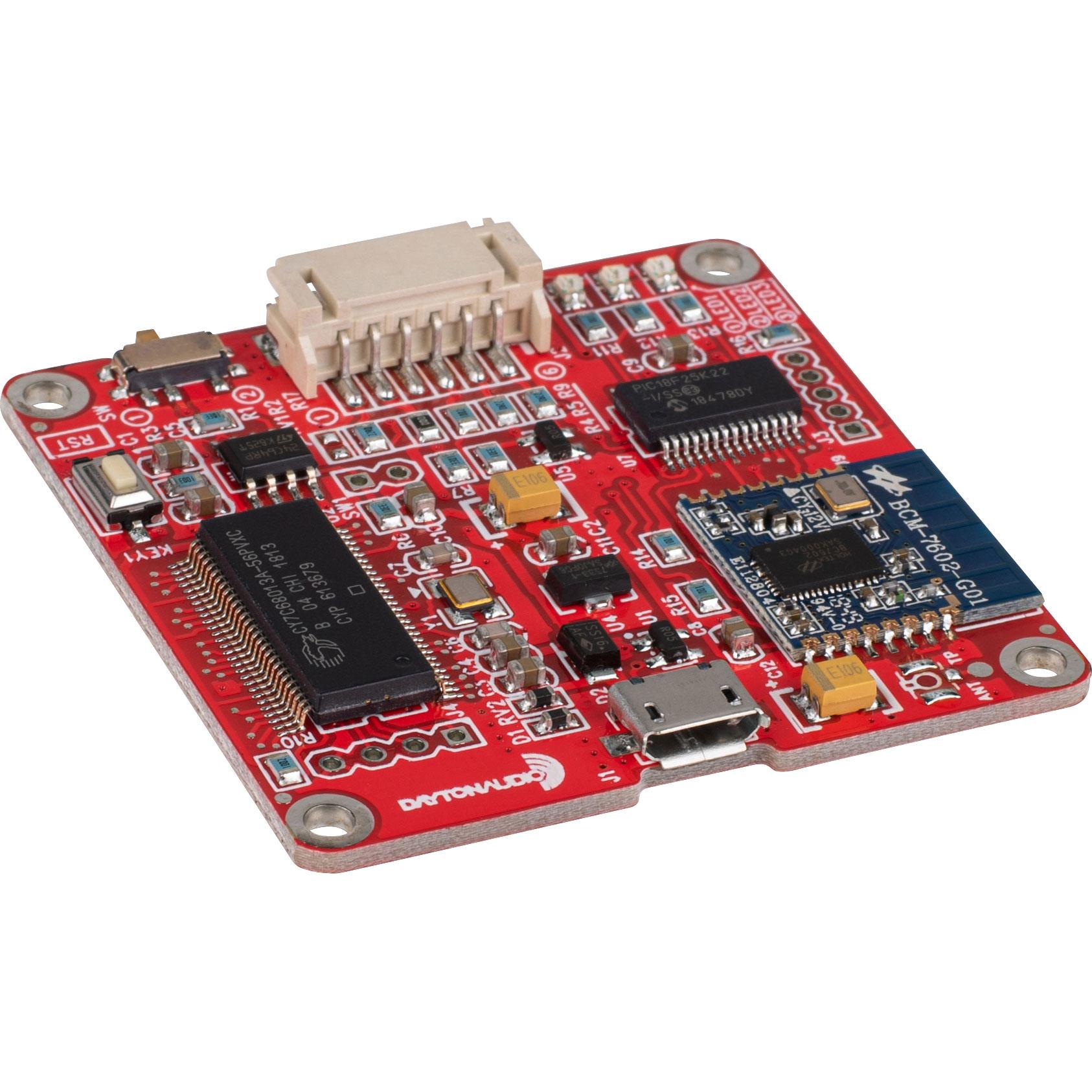 Optional Programing Interface Board
The Dayton Audio DSPB-ICP1 provides a solution to programing the KABD-250 amp board using SigmaStudio software. Download SigmaStudia software to your computer and send programming instructions using a micro USB cable (not included) to the DSP-ICP1 programing board that installs settings into the KABD-250 amp board with the included 6-pin cable.

Please note: The included cable has the same 6-pin plug that joins the KAB-250v4 to the KABD-250. Make sure the programing board plugs into J-4 or #8 in the quick reference guide.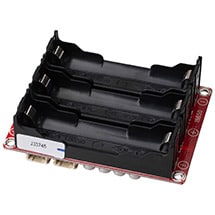 Optional Li-Ion Battery Charging Boards
The Dayton Audio LBB-3v2 Li-Ion battery charging board holds three 18650 batteries (sold separately). This charging board has built in under/over voltage protection circuits for safe charging and longevity. It balances different voltage between batteries in case one battery discharges faster than the others. 12 to 24 VDC, 1-5A power adapters work best for charging batteries contained in this board, but they accept as low as 5 VDC adapters. Higher rated voltage and current charge the batteries faster.

For more power output and longer play time use the Dayton Audio LBB-5Sv2 and LBB-5v2 battery boards. The Dayton Audio LBB-5Sv2 18650 5-cell battery board delivers more voltage output which increase the wattage output of the KABD-250. The Dayton Audio LBB-5v2 26650 5-cell battery board delivers more voltage output and has more current available which increase the wattage output and play time for the KABD-250.

Please note: When removing batteries from the LBB series battery boards, the charging adapter must be plugged in momentarily after the new batteries have been inserted. Failing to do so will prevent the amp board from powering up.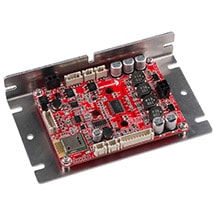 Optional L-type Aluminum Bracket
It can be quite difficult to install the audio amplifier board into tight spaces such as portable sound applications. To securely mount the KABD-250 board and improve space efficiency Dayton Audio offers the KAB-AB; an optional L-type aluminum bracket. This aluminum bracket supports vertical and horizontal mounting configurations to satisfy different installation requirements. With four M3.5 screw lock standoffs, most Dayton Audio KAB and DSPB amplifier boards install easily on the bracket using the four included security screws. Two M3.5 holes and seven slots give you the versatility to mount the L-type bracket to your project as needed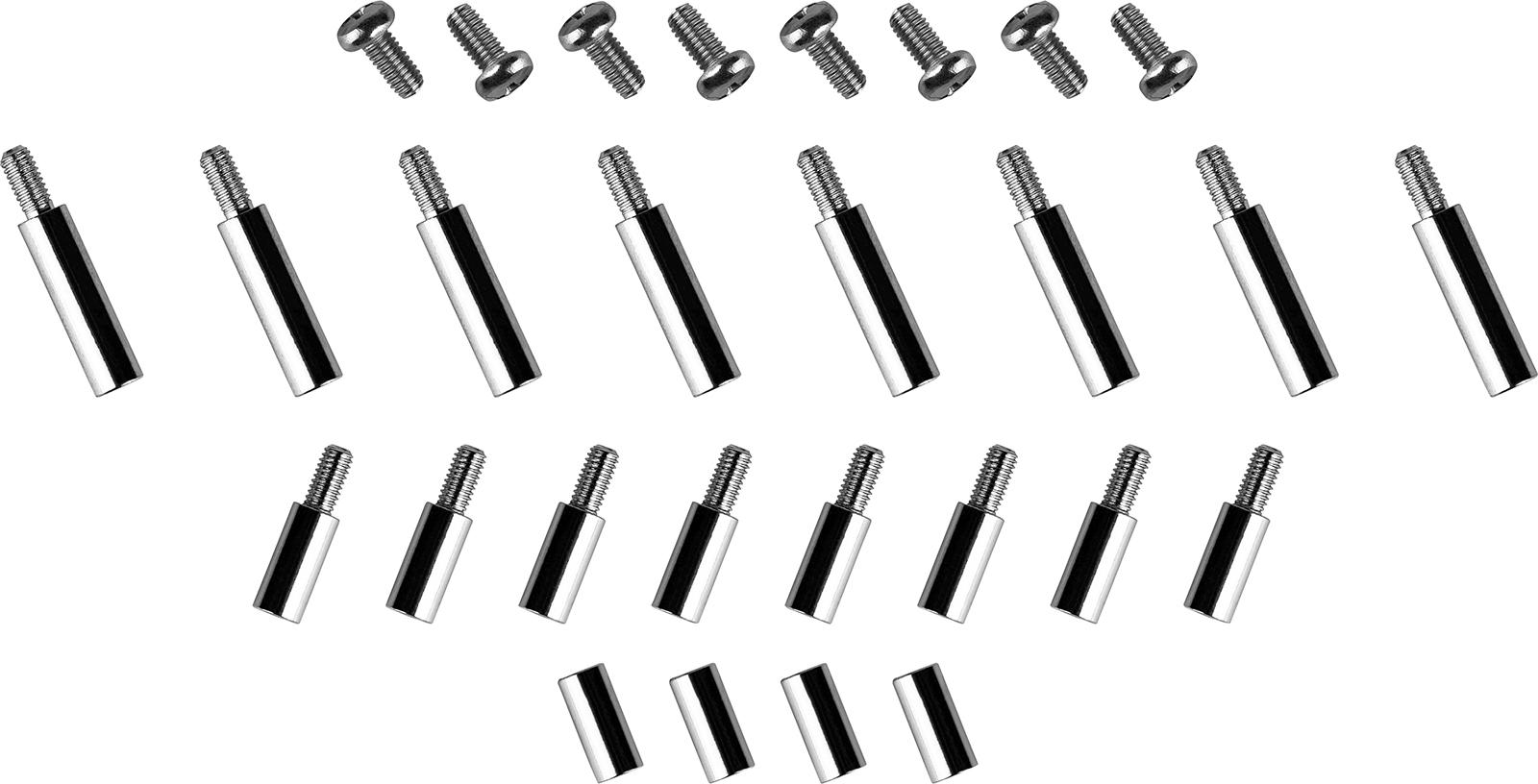 Optional Standoff Kit
The PC Board M3 Standoff Kit is perfect for stacking multiple PC boards that are the same size, like a DSPB amp board on top of the LBB-3 battery board. Stacking PC boards enables you to use a smaller project box to install your project in. These standoffs will secure a single PC board, or a stack, if you use it with KAB-AB mounting bracket. They both use the same M3 thread. The kit features eight 16mm studs, eight 10mm studs, and 4 Phillips screws.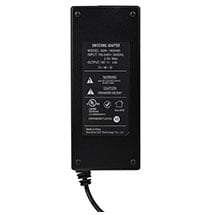 High Performance Power Supply
To meet the wattage output as listed in the specifications, using a 24V 5A DC Switching Power Supply is recommended. The power supply accepts inputs 100-240 VAC. It features a 6 ft. detachable input cord, and a 2.5mm x 5.5mm x 9mm center positive plug 4 ft. output cord. Approved/listed by all major safety agencies; UL, CUL, and CE. This power supply can also be used with the option battery boards.
| | |
| --- | --- |
| Model Number | KABD-250 |
| Color | Red |
| Unit of Measure | Each |
| UPC | 848791007934 |
| Warranty - Parts | 5 Years |
| Warranty - Labor | 5 Years |
| Product Shipping Weight (lbs.) | 0.35 |
| Product Weight | -- |
| Product Height | 1.25" |
| Product Width | 3.5" |
| Product Length | 5.25" |
| Product Depth | -- |