KAB-250v4 2 x 50W Class D Audio Amplifier Board with Bluetooth 5.0
Quick Overview
The Dayton Audio KAB-250v4 Bluetooth Amplifier Board makes it quick and easy to add audio to your project, speaker build, point-of-purchase display, kiosk, or any location where music or sound enhances the experience. With an output of 2 x 50 watts, there is more than enough power to drive stereo speakers, yet the board is small enough to integrate into nearly any project.
Product Highlights
Efficient 2 x 50 watts of power from the TPA3116 amp chip
Bluetooth 5.0 with aptX HD built directly into board -- no need for a separate module
Add programmable sound customization with the free KABX software via the KPX programmer board (sold separately)
Wire harnesses make installation quick and simple with no soldering required -- includes power and speaker cables
Separate ports for powering by battery or direct DC input from a power adapter
Optional accessories expand functionality and more
Product Manuals / Spec Sheets / Downloads
Dayton Audio KAB-250v4 Quick Start Wiring Guide
Dayton Audio KABX Software Download
Dayton Audio KABX Software Guide
Buying Options
Easy to use Bluetooth 5.0 and amplification
The Dayton Audio KAB-250v4 Bluetooth Amplifier Board makes it quick and easy to add audio to your project, speaker build, point-of-purchase display, kiosk, or any location where music or sound enhances the experience. With an output of 2 x 50 watts, there is more than enough power to drive stereo speakers, yet the board is small enough to integrate into nearly any project.
High Quality Audio Performance
The Dayton Audio KAB-250v4 Bluetooth Amplifier Board delivers high quality sound without drawing a lot power. This is due to the highly efficient TPA3118 Class D amplifier chip. The TPA3118 operates at 90% efficiency, thus eliminating the need for a heat sink and reducing its overall size. Its high efficiency becomes a major advantage when powering from batteries as it prolongs the playtime of a single charge. Its ultra-low distortion and pop-free performance make this hi-fi amplifier board an integral asset in any quality audio build.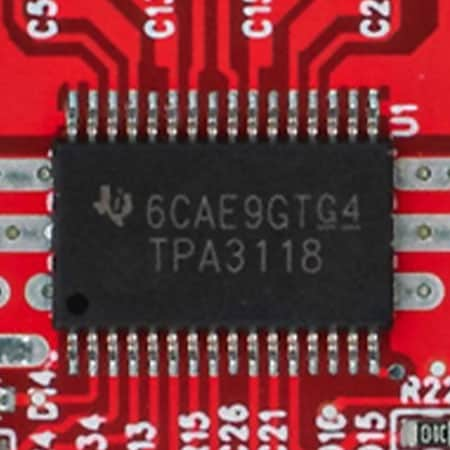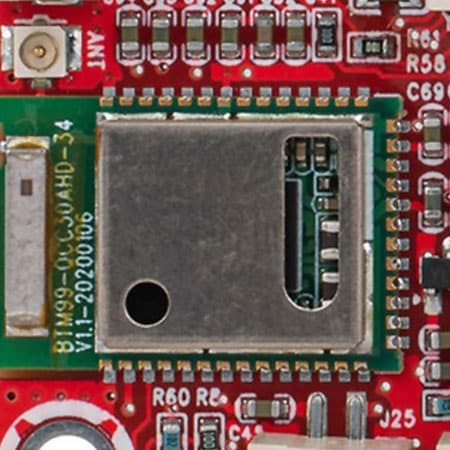 Unlike other amplifier boards, the Dayton Audio KAB-250v4 includes a built-in Qualcomm Bluetooth 5.0 module with aptX HD and DSP programing option with KPX board (sold separately). The advantage of Bluetooth 5.0 is its low power consumption which prolongs the playtime of battery powered builds. The streaming audio quality rivals that of CDs since the Bluetooth chip supports aptX, aptX HD, aptX LL, SBC & AAC. High receive sensitivity with RF power up to 9 dBm and -90 dBm, and on board antenna insure stable wireless connectivity up to 15m (50ft.) On board external antenna jack enables the KAB board to be mounted in a metal enclosure with an external antenna (sold separately). Designed and built for Bluetooth demonstration purposes, this fully functioning module provides a turn-key approach to Bluetooth certification for consumer goods. If the application of this board is for the hobbyist or industrial purposes then nothing is required to enjoy the full convenience of pairing and streaming high quality Bluetooth audio. The KAB-250v4 is also CE and FCC ready for certification purposes.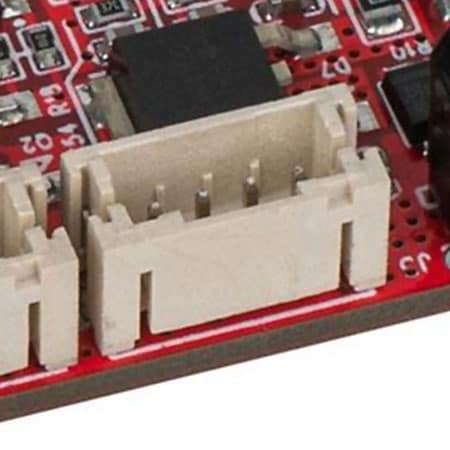 Due to the overall audio performance and built-in Bluetooth with DSP Programing option, this amp board has almost endless application possibilities.Included with the KAB-250v4 are two wire harnesses: one for DC power and the other for connecting to stereo speakers. For many users, these cables are all that is needed to complete a project. Since they have additional on board connectors with wiring harnesses (sold separately) available to speed-up installation and create confident connections, there is no need to solder or troubleshoot loose and unstable contacts. Dayton Audio also offers a variety of accessories with robust features to make installation even easier. Find out more about optional accessories below.
Due to the overall audio performance and built-in Bluetooth with DSP Programing option, this amp board has almost endless application possibilities. From hobbyists and DIYers to manufacturers and installation organizations this Bluetooth amp board has immense flexibility. For orders greater than 20 units, custom OEM Bluetooth pairing names are available – email info@daytonaudio.com for more details. Even if you bypass the Bluetooth feature, this amplifier board integrates easily into any job because of its array of included and optional wiring harnesses. Examples of applications include: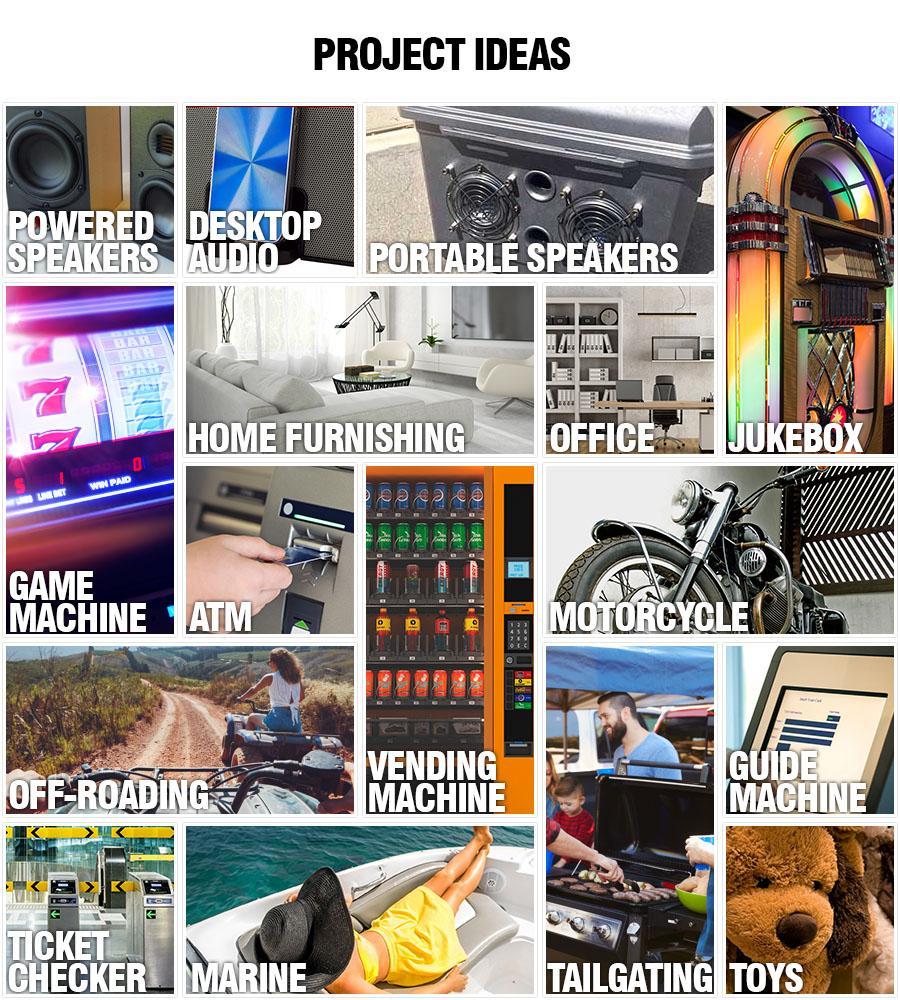 Extreme Low Standby Power
The Dayton Audio KAB-250v4 will remain powered up to 7 days in standby mode even while Bluetooth is enabled. This standby time is approximately 4x longer than the competition due to the use of a high efficiency DC/DC converter which minimizes power consumption thanks to the employment of a micro controller as the PMU (Power Management Unit).
The Dayton Audio KAB-250v4 features numerous power options for creative, wireless sound projects. This flexibility eliminates limitations often caused by most other amp boards. Therefore, your design can be cord restricted or truly portable.
For portable applications, there is an optional function cable kit (KAB-FC) which permits the connection of rechargeable batteries to power the board. NiMH, lead acid, or NiCad batteries will recharge straight from the board using a 15~24 VDC, 1A power supply. Use extreme caution because the Bluetooth amp board does not provide under/over charge protection and the connected power adapter cannot have an output greater than 30 watts.
Solar charging is also an option; this application requires solar batteries with float (open) voltage with 16.5 to 21.5 VDC, and 20 to 100 watt panel. Eight AA alkaline batteries can also power this board, but do not connect the recharging feature for this type of use.
The best rechargeable battery option makes use of a separate interconnect board from Dayton Audio (KAB-BE) which holds three 18650 Li-Ion batteries. This portable power source is highly recommended since this add-on battery holder board does provide under/over voltage protection. A 19 VDC, 1-5A power supply is your best choice for charging the expansion board. (15 VDC Min required and 24 VDC Max).
One Dayton Audio KAB-250v4 Bluetooth Amplifier Board
One 2-conductor power cable 20"
One 4-conductor speaker cable 20"

One Bluetooth pairing reset push button switch with cable 20"

KABX Integration on KAB Amplifier Boards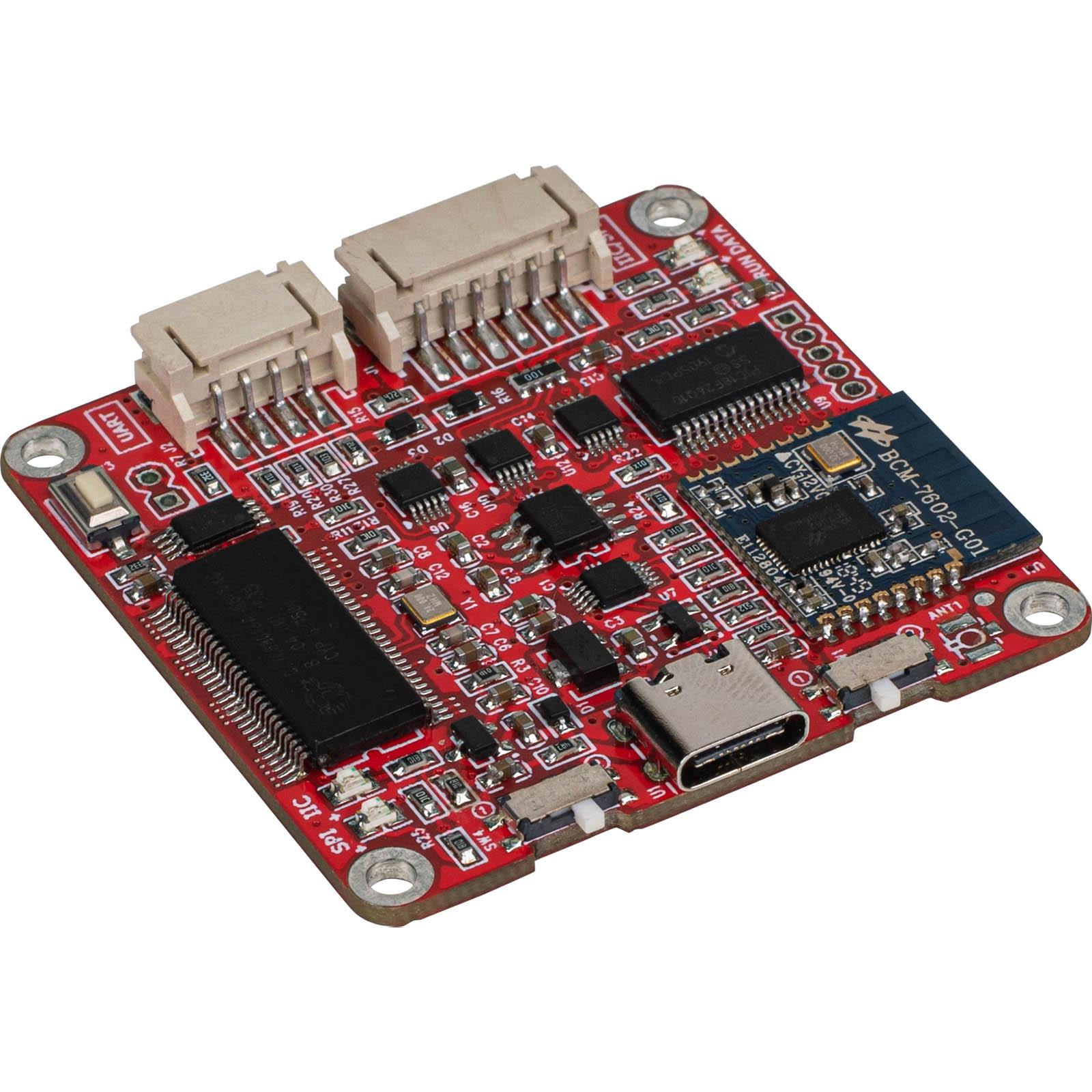 While your KAB amplifier sounds great out of the box, the KABX DSP Control software is compatible with new generation KAB amplifier boards (KAB-250v4, KAB-230v4, KAB-100Mv2) when combined with a KPX programmer and the free KPBX offers extensive DSP customization with no experience required. The software provides simple control of 10 band of PEQ, High Pass Filters, Low Pass Filters, Compressor / Limiters, Bass Effects and more. KPX Programmer connection is only needed temporarily, DSP presets can be saved to the KAB amplifier itself and the programmer can be removed. This also means that one programmer can program as many amplifiers as needed.
What do I need to connect my KAB Amplifier to KABX?
A Windows PC / Laptop with available USB Port
The free KABX download
A KAB Amplifier and recommended power supply


KAB-250v4, KAB-230v4, KAB-100Mv2

A USB cable with one end being USB Type C


The other end can be either type A or type C, depending on what type of port you have on your computer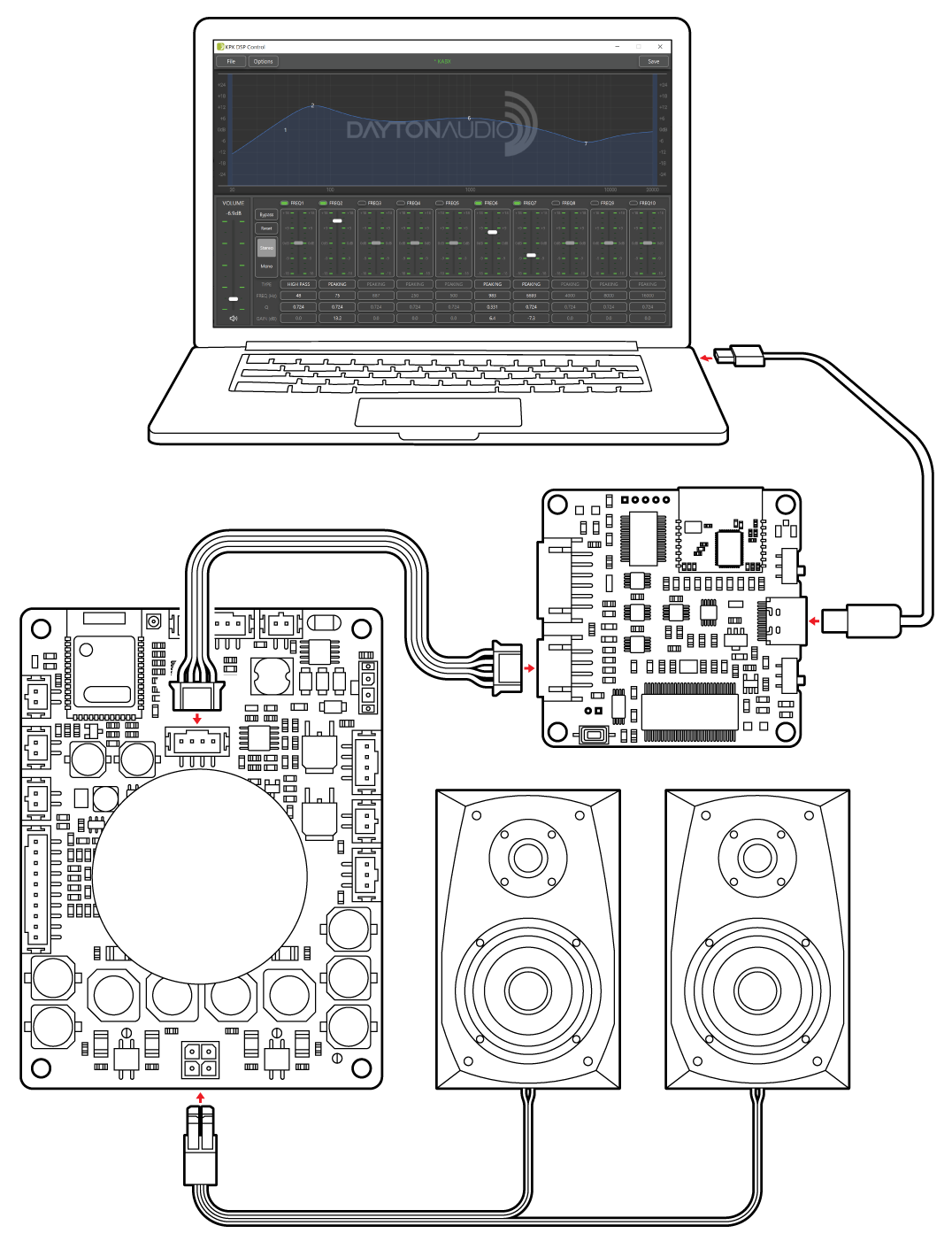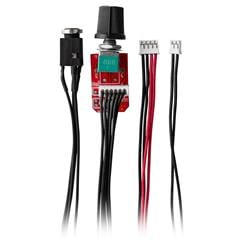 Optional Function Cables
Use the KAB-FC cables to customize any Dayton Audio KAB project. This four-cable kit comes equipped with Molex Mini Fit Jr connectors for easy termination to the board, and each cable is 20" in length.
• The AUX-in cable with 3.5 mm jack feeds music from any analog source directly to the KAB-250v4 board, enabling audio play from almost any non-Bluetooth source.
• The volume control with cable lets you manually control sound levels, and mounts into a 0.3" hole.
• The battery cable is for portable projects where AC or 12 VDC car power are not available. Multiple types of rechargeable batteries work with this cable and the board will charge the batteries when using an adapter with 15 to 24 VDC. Output wattage of the power adapter should never exceed 30 watts, as there is no under/over charging protection built in to the KAB-250v4 board.
• Using the on/off power cable cuts power to the entire board, but still provides power to the connected batteries for charging. An optional SPST switch is needed to accomplish this function.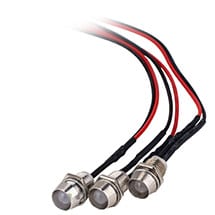 Optional LED Light Status Cables
The KAB-LED light cable kit includes three different status LEDs that are clear when not in use, but light up blue, red, and green. The blue LED is used as the Bluetooth indicator, the red LED indicates power, and the green LED indicates charging.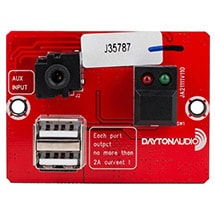 Optional Interface Extension Board
The Dayton Audio KAB-INT provides a simple plug and play solution for custom applications. This interface board provides a 3.5 mm AUX-in jack, two USB A female ports for charging external devices, a momentary pushbutton switch that controls the standby function, and LED indicators for power and charging status. With the included 10-pin cable, the interface extension board easily plugs directly into the KAB-250v4 board.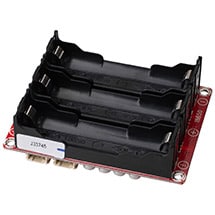 Optional Li-Ion Battery Charging Board
The Dayton Audio KAB-BE Li-Ion battery charging board holds three 18650 batteries (sold separately). This charging board has built in under/over voltage protection circuits for safe charging and longevity. It balances different voltage between batteries in case one battery discharges faster than the others. A 19 VDC, 1-5A power adapter works best for charging batteries contained in this board. Additional boards can be sequenced together to provide longer playing time.
Please note: When removing batteries from the KAB-BE, the charging adapter must be plugged in momentarily after the new batteries have been inserted. Failing to do so will prevent the amp board from powering up.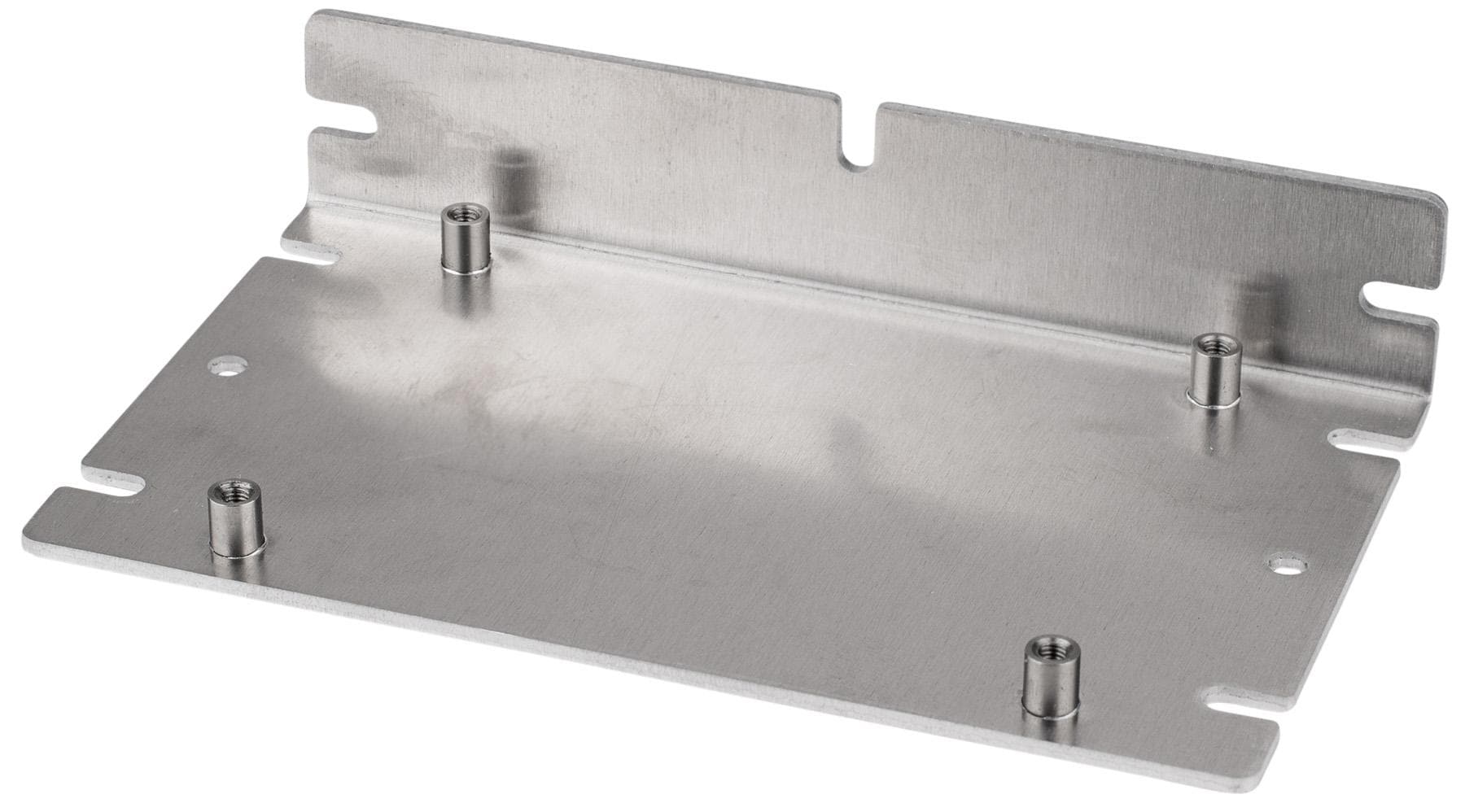 Optional L-type Aluminum Bracket
It can be quite difficult to install the audio amplifier board into tight spaces such as portable sound applications. To securely mount the KAB-250v4 board and improve space efficiency Dayton Audio offers the KAB-AB; an optional L-type aluminum bracket. This aluminum bracket supports vertical and horizontal mounting configurations to satisfy different installation requirements. With four M3.5 screw lock standoffs, any Dayton Audio KAB board installs easily on the bracket using the four included security screws. Two M3.5 holes and seven slots give you the versatility to mount the L-type bracket to your project as needed.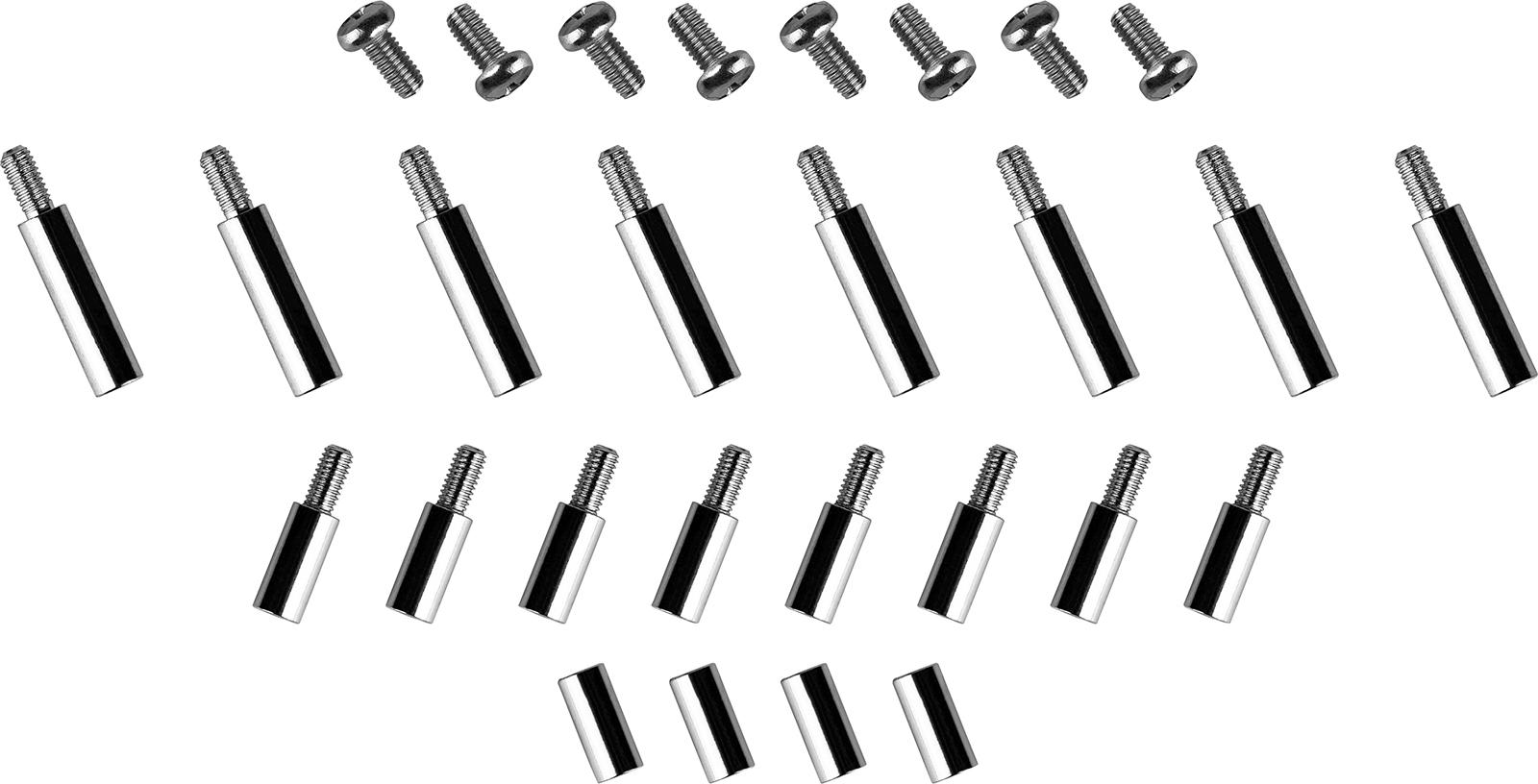 Optional Standoff Kit
The PC Board M3 Standoff Kit is perfect for stacking multiple PC boards that are the same size, like the a KAB amp board on top of the KAB-BE battery board. Stacking PC boards enables you to use a smaller project box to install your project in. These standoffs will secure a single PC board, or a stack, if you use it with KAB-AB mounting bracket. They both use the same M3 thread. The kit features eight 16mm studs, eight 10mm studs, and 4 Phillips screws.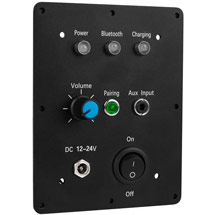 Optional Panel Accessory Kit
Add a professional finish to your Dayton Audio KAB amp board projects with the KAB-PMV3 panel accessory kit. Includes function cables, power switch, status LED's, DC jack, pairing button, and all necessary tools and hardware for installation.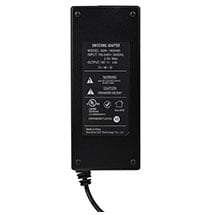 High Performance Power Supply
To meet the wattage output as listed in the specifications, using a 24V 5A DC Switching Power Supply is recommended. The power supply accepts inputs 100-240 VAC. Approved/listed by all major safety agencies; UL, CUL, and CE. Features a 5 ft. detachable input cord with a 2.5mm x 5.5mm x 9mm, center positive connector. This power supply can also be used with the KAB-BE.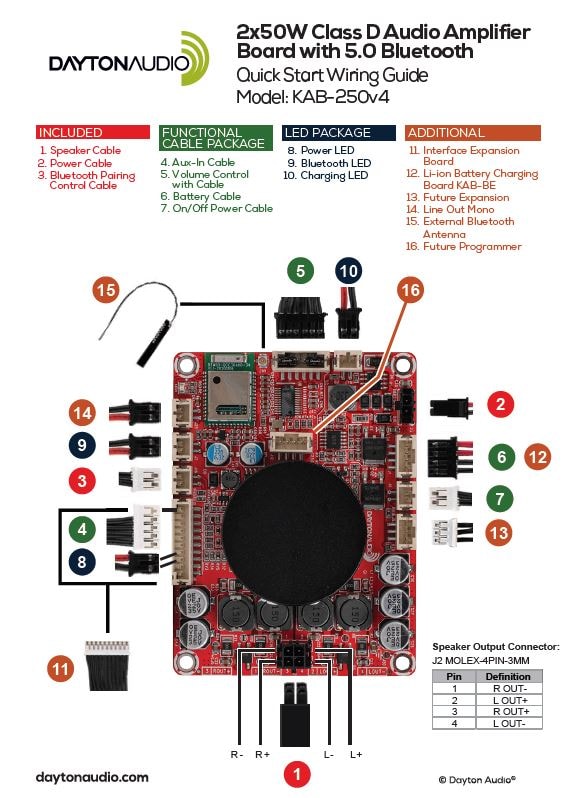 Model Number
KAB-250v4
Color
Red
Unit of Measure
Each
UPC
848791007842
Warranty - Parts
5 Years
Warranty - Labor
5 Years
Product Shipping Weight (lbs.)
0.35
Product Weight
--
Product Height
1.5"
Product Width
3.5"
Product Length
--
Product Depth
1.5"