E150HE-44 5-1/2" DVC MMAG Extended Range Subwoofer 4 Ohm per Coil
Quick Overview
Dayton Audio's ground breaking Epique E150HE-44 5-1/2" with a carbon fiber cone and dual voice coils, introduces the world to a new class of speaker driver . . . an
E
xtended
R
ange
S
ubwoofer (ERS). It was engineered to produce premium controlled subwoofer performance, while simultaneously achieving a smooth extended high frequency response. Thanks to its revolutionary MMAG dual gap motor, the motor force is nearly constant even when driven to the limits of its 14 mm Xmax. Capable of unheard-of excursion for its size while delivering smooth midrange response with low distortion, the E150HE-44 woofer gives you the opportunity to create systems that provide extraordinary accuracy and fidelity.
Product Highlights
Patented dual gap MMAG motor design allows exceptional linearity for minimal distortion
Lightweight damped carbon fiber cone delivers remarkably smooth response up to 45 degrees off axis
Incredibly linear 14 mm excursion to produce class leading low frequency extension and control
Extensive inductance control extends frequency response, lowers distortion, reduces compression, and increases power handling
Substantial venting keeps the voice coil cool to minimize power compression
Dual 4 ohm voice coils enable a variety wiring configurations and flexibility
Incredible versatility, premium performance as a subwoofer or woofer in 2-way designs
Product Manuals / Spec Sheets / Downloads
Epique E150HE-44 Specification Sheet
Epique E150HE-44 Data Files
Buying Options

Epique E180HE-44 7" DVC MMAG Extended Range Subwoofer 4 Ohm per Coil
Combining world class performance with a reasonable cost, the Epique E180HE-44 7" carbon fiber cone woofer from Dayton Audio sets a new standard in versatility, distortion, and response for small speakers. Featuring a carbon fiber cone, dual voice coils, custom tooled suspension, FEA optimized motor, cast aluminum frame, ample venting, and extensive induction control, the E180HE-44 pushes the limits of performance for a 7" driver. Capable of exceptional performance in everything from small subwoofers to 2-way designs, this versatile driver will redefine what is possible from compact speaker systems.
Key Specs:
Nominal Diameter: 7"
Power Handling (RMS): 200 Watts
Power Handling (MAX): 400 Watts
Impedance: 4+4 Ω
Frequency Response: 25 - 3000 Hz
Sensitivity: 83.7 dB 2.83V/1m
Voice Coil Diameter: 1.5"
Maximum Linear Excursion: 14.7mm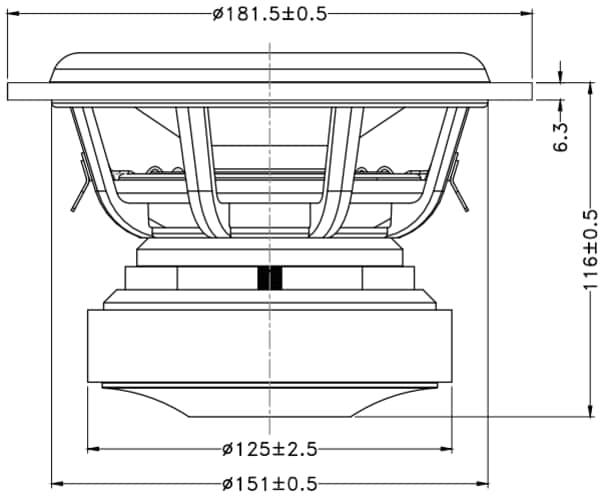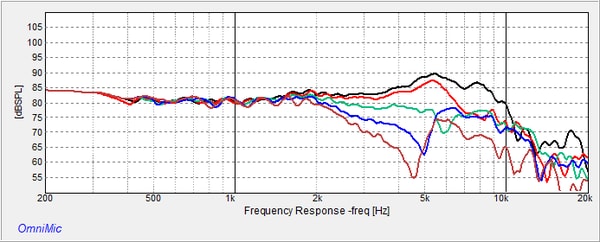 Frequency Response & Impedance Curve
This dual voice coil driver uses a patented MMAG dual gap motor assembly for unmatched linear excursion capability to create compact systems with more bass output and lower distortion than ever.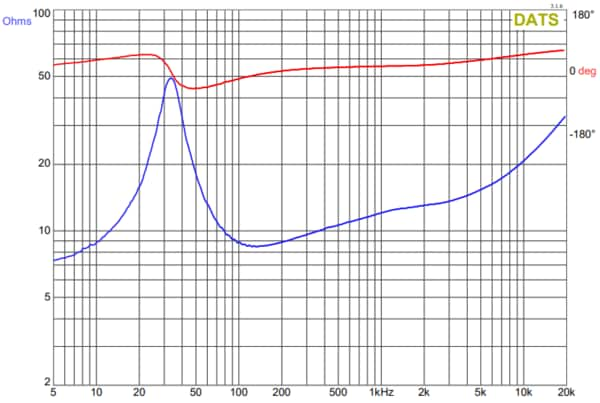 MMAG Motor Assembly - Like No Other
MMAG = Multiple Magnet Air Gap
The heart of the E180HE-44 is the patented MMAG dual gap motor assembly. This unique design uses 2 top plates spaced between 6 smaller gap balancing magnets creating more dynamically stable magnetic gaps with more consistent flux than the more common dual gap arrangements. The combination of the MMAG motor and the underhung voice coil gives the E180HE-44 zero loss of motor force (Bl) even when driven to 10 mm of excursion, and an overall excursion capability of over 14 mm (at 70% Bl). This incredible excursion capability allows extremely low harmonic and intermodulation distortion to ensure remarkably clean output even when driven to high output levels. Furthermore, the motor includes a full length copper sleeve surrounding the pole which offers extensive induction control to lower Le and improve high frequency response, while simultaneously lowering distortion, reducing power compression, and increasing thermal power handling.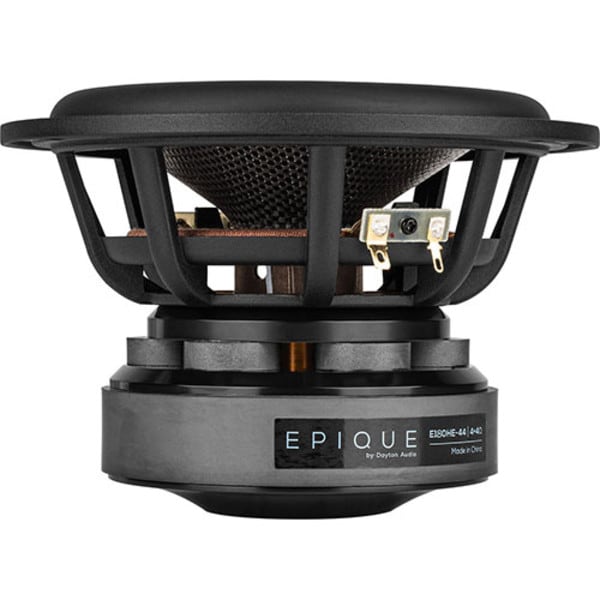 Carbon Fiber Is All About Performance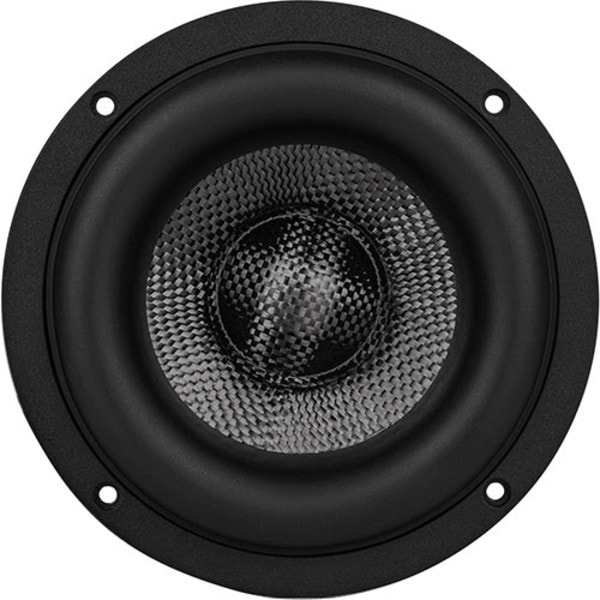 The rigid carbon fiber cone gives the E180HE-44 a unique look while offering a number of performance advantages. With one of the highest strength to weight ratios of readily available materials, carbon fiber keeps the moving mass to a minimum enabling extended low frequency extension without sacrificing efficiency. The woven cone has excellent damping properties which keeps unwanted resonances under control for incredibly smooth response all the way up to 3,000 Hz. Optimized cone and dustcap profiles make sure that there is no deformation when exposed to high stress so the smooth response and low distortion remains consistent even when pushed to high output levels. Finally, the outside edge of the cone has been reinforced to further control cone breakup and help maintain controlled off axis dispersion.
High excursion requires flexible suspension
When designing the E180HE-44, Dayton Audio paid extra attention to optimize the suspension to guarantee unrestricted excursion without limiting performance. The large roll rubber surround was custom tooled for high excursion while paying extra attention to the profile to avoid limiting off axis dispersion. A filleted inside edge helps to add extra damping to the cone while reducing reflection from the high roll surround to further improve higher frequency response. A large diameter progressive spider helps keep the cone linear when driven to high excursion without restriction. In addition, the tinsel leads have been woven into the spider on opposing sides to keep mass and compliance displaced evenly across the spider.
Extensive venting helps displace unwanted heat
Excess heat build-up will increase resistance and cause significant power compression and even failure. The forced air across the voice coil keeps everything cool the E180HE-44 has extensive cooling. Another advantage of this MMAG motor assembly is the open spaces between the bucking magnets, allowing unrestricted airflow directly into the center of the magnetic gap. This open layout pulls cool air directly across the voice coil to remove heat more efficiently than common motor designs. Also, the E180HE-44 includes a vented voice coil former, 3 large peripheral gap vents, and unrestricted airflow under the spider to make sure that every component has fresh air moving across it to keep temperatures at a minimum even when pushed hard for long periods.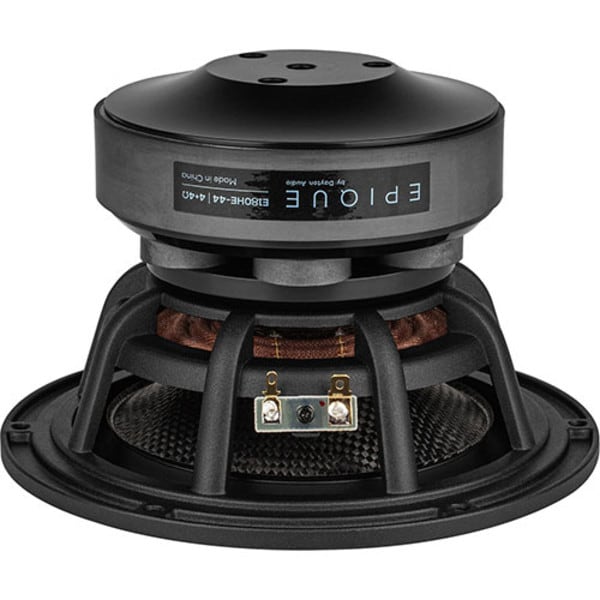 Cast aluminum frame holds everything together
In order to support its massive motor assembly while providing a solid mounting surface, the E180HE-44 uses a rugged cast aluminum frame. The minimalistic design of the frame eliminates unwanted reflections and provides ample airflow for the rear of the cone. With plenty of space behind the spider makes sure that you can push the limits of excursion without bottoming out. Being a non-magnetic material, the aluminum frame has no effect to the magnetic field allowing the motor to effortlessly perform exactly as designed. As an added bonus aluminum is an excellent conductor of heat to further assist in cooling.
No Replacement for Displacement
Thanks to the 14mm linear excursion of the E180HE-44, speaker designers can get incredible volume displacement out of a significantly smaller driver in significantly smaller boxes. This comes with a caveat, however; more displacement requires larger ports, which can become cumbersome to fit inside such small boxes.
To enable the highest quality builds, Dayton Audio has created high-performance passive radiators that retain the Epique family aesthetic. Eliminate the need for excessively large ports by using the Epique E150HE-PR and the E180HE-PR in your next Epique build!
| | |
| --- | --- |
| Speaker Series | Epique Series |
| Model Number | E180HE-44 |
| Color | Black |
| Unit of Measure | Each |
| UPC | 848864059419 |
| Warranty - Parts | 5 Years |
| Warranty - Labor | 5 Years |
| Product Shipping Weight (lbs.) | 8.6 |
| Speaker Type | Subwoofer |
| Power Handling (RMS) | 200 watts |
| Power Handling (max) | 400 watts |
| Continuous Program Power | -- |
| Impedance | 8 ohms |
| Sensitivity | 83.8 dB @ 2.83V/1m |
| Frequency Response | 25 - 3,000 Hz |
| Voice Coil Diameter | 38 mm |
| Magnet Weight | -- |
| DC Resistance (Re) | 6.8 ohms |
| Voice Coil Inductance (Le) | 1.5 mH @ 1kHz |
| Resonant Frequency (Fs) | 35 Hz |
| Mechanical Q (Qms) | 2.93 |
| Electromagnetic Q (Qes) | 0.54 |
| Total Q (Qts) | 0.46 |
| Diaphragm Mass Inc. Airload (Mms) | 32.5g |
| Moving Mass Of Diaphragm (Mmd) | -- |
| Mechanical Compliance of Suspension (Cms) | 0.61 mm/N |
| Surface Area Of Cone (Sd) | 136.1 cm² |
| Volume of Displacement (Vd) | 200.6 cm³ |
| BL Product (BL) | 9.6 Tm |
| Compliance Equivalent Volume (Vas) | 16.14 liters |
| Maximum Linear Excursion (Xmax) | 14.7 mm |
| Drivers Mechanical Losses (Rms) | -- |
| Cone / Diaphragm Material | Carbon Fiber |
| Entry / Exit Diameter | -- |
| Surround Material | Rubber |
| Voice Coil Wire Material | Copper |
| Voice Coil Former | -- |
| Basket/Frame Material | Cast Aluminum |
| Magnet Material | Ferrite |
| Overall Outside Diameter | 181.5 mm |
| Overall Depth | 116 mm |
| Baffle Cutout Diameter | 122 mm |
| # Mounting Holes | 6 |
| Mounting Hole Diameter | -- |
| Bolt Circle Diameter | -- |
| Product Weight | -- |