KAB-2150 2 x 150W Class D Bluetooth 5.0 Amplifier Board with Tone and Volume Controls
Quick Overview
It's time to crank up your next audio project with the KAB-2150, 2 x 150W peak, amplifier board. The KAB-2150 comes with all the cables you need to customize sound right out of the box. With built-in Bluetooth 5.0 and input and output line options the audio DIY projects are almost endless. Add a 36 VDC power supply (sold separately) and a great set of speakers and you'll be the talk of the town.
Product Highlights
External volume, Bass, and treble controls let you customize sound right out of the box
Plug-N-Play JST-PH and Molex Mini-Fit type wire harnesses make installation quick and simple with no soldering required
Bluetooth 5.0 built directly into board -- no need for a separate module
Efficient 2 x 150 watts of power from the TPA-3255 amp chip
Line input and line output wiring harnesses with 3.5 mm jacks let you instantly add other components to your project
On board antenna jack for an external antenna for metal enclosure DIY projects
5-year Dayton Audio warranty
Product Manuals / Spec Sheets / Downloads
Dayton Audio KAB-2150 User Manual
Dayton Audio KAB-2150 Quick Start Wiring Guide
Buying Options
Hi Quality/Power Audio Performance
The Dayton Audio KAB-2150 Bluetooth Amplifier Board delivers high quality, powerful sound using the Class D TPA-3255 amplifier chip. The TPA-3255 power efficiency enables it to deliver high wattage output using a special designed heatsink eliminating the need for a fan. Its high-power performance without a noisy fan makes this hi-fi amplifier board an integral asset in any quality audio build.
Integrated Bluetooth
Unlike other amplifier boards, the Dayton Audio KAB-2150 includes a built-in Bluetooth 5.0 module. This cost-effective version of Bluetooth enables easy pairing with any mobile device or tablet for convenient wireless access to audio. Designed and built for Bluetooth demonstration purposes, this fully functioning module provides a turn-key approach to Bluetooth certification for consumer goods. If the application of this board is for the hobbyist or industrial purposes then nothing is required to enjoy the full convenience of pairing and streaming Bluetooth audio. The KAB-2150 is also CE and FCC ready for certification purposes.
Single Line Output and Dual Line Input
There're several new features added to the KAB-2150 not found on other KAB boards. Check out the detailed on line manual to see the changes. One unique feature is a second line input. The KAB-2150 has a switch to choose between line input with Bluetooth, or line input with no Bluetooth. No Bluetooth option enables the KAB-2150 to act as a standalone stereo amplifier, or secondary amp with another amp board that might already have Bluetooth. This feature cuts out the tone controls and the line output along with the Bluetooth.
Easy Installation
Included with the KAB-2150 are multiple plug-n-play wiring harnesses that enable you to customize your project right out of the box. Three wire harnesses have Molex Mini Fit type connectors. One hooks to DC power and the other two connect to speakers. For many users, these cables are all that is needed to complete a project. The KAB-2150 also includes JST PH 2.0 type sockets to further customize your project. To make expansion easier the KAB-2150 comes with JST PH 2.0 type wiring harnesses and components so you don't have to go searching for the right function kit. Quickly plug in all the included accessories without any soldering or use only the accessories needed to complete a specific project. Find out more about optional accessories below.
Customized Bluetooth Amplifier
The KAB‐2150 could be built into a custom enclosure, such as the case of some old electronics, a custom 3D printed enclosure, or anything you can think of. The included wiring harnesses make it easy to mount all controls and inputs to whatever enclosure you choose. Other audio DIY ideas might include Bluetooth powered portable or desktop speakers.
Package Includes:

• Dayton Audio KAB-2150 Bluetooth Amplifier Board
• Two 2-Conductor Speaker cables 20"
• One 4-Conductor Power Cable with 2.5 x 5.5 mm Tip Positive DC Jack 20"
• Two 4-Conductor Cables with 3.5 mm Stereo Jack 20"
• Three 3-Conductor Cables for Potentiometers 7.5"
• Three 10K Potentiometers with Knobs, Mounting Nuts and Washers
• One 2-Conductor Cable with Bluetooth Reset Button 20"
• One 2-Conductor Cable with Blue LED 20"
• One 2-Conductor Cable with Green LED 20" • One External Bluetooth Antenna Board with 5" Cable
Specifications:
• Working voltage: 18 to 36 VDC 8A Max
• Power output (w/ 36 VDC power supply): 2 x 150W @ 4 Ohm THD+N 10%
• Amp gain: 28 dB
• SNR: 90 dB 2 x 150W @ 4 Ohm, A-weighting
• Frequency response: 20 Hz to 20,000 kHz
• Crosstalk -68dB
• Switching frequency: SD floating @ 36V, 450 kHz
• Minimum load impedance: 3 Ohm
• Standby power: 0.1 mW when switched off on the board
• THD +N 5W @ 4 Ohm, 1 kHz: 0.01%
• Input Impedance: 20K Ohm
• Input sensitivity: 2 x 150W @ 4 Ohm, 1 kHz: 1V
• DC offset: 15 mV
• Board dimensions: 4.73" x 3.15" x 1.22" (120 x 80 x 31 mm)
• Mounting hole spacing: 4.42" x 2.84" (112 x 72.2 mm)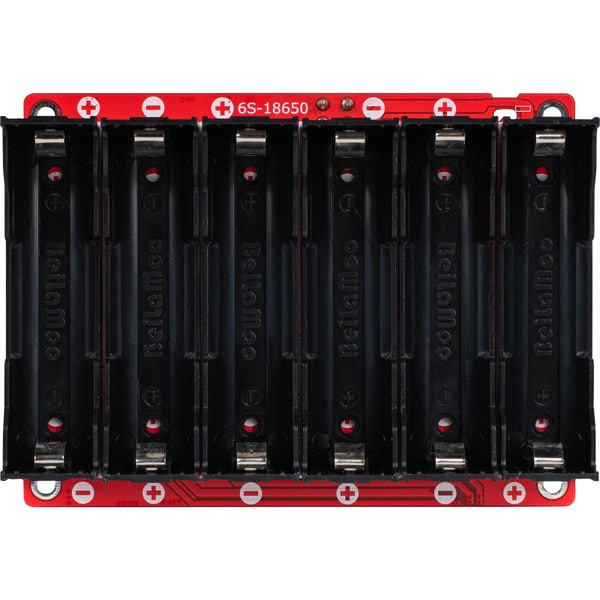 Optional Li-Ion Battery Charging Board
For more power output, Dayton Audio's LBB-6S battery holder board delivers high current portable power to small amplifiers, 200W amp boards, or other 25 VDC projects by combining the voltage from six 18650 Li-Ion batteries (sold separately). It has the same footprint as the KABD-434 and compact Sure/Wondom boards and is small enough to fit inside a portable speaker. It also has mounting holes for these same boards to mount on top with standoffs (sold separately). The LBB-6S has multiple 25 VDC outputs to power an amp, tone control, Bluetooth, and other preamp component boards. Enjoy the extended listening time you get from Li-Ion batteries on a single charge. 18650 Li-Ion batteries come in a variety of amperages, and to get the longest playtime from a 200W amplifier or amp board use at least 2600mAh batteries.
Please note: When removing batteries from the LBB series battery boards, the charging adapter must be plugged in momentarily after the new batteries have been inserted. Failing to do so will prevent the amp board from powering up.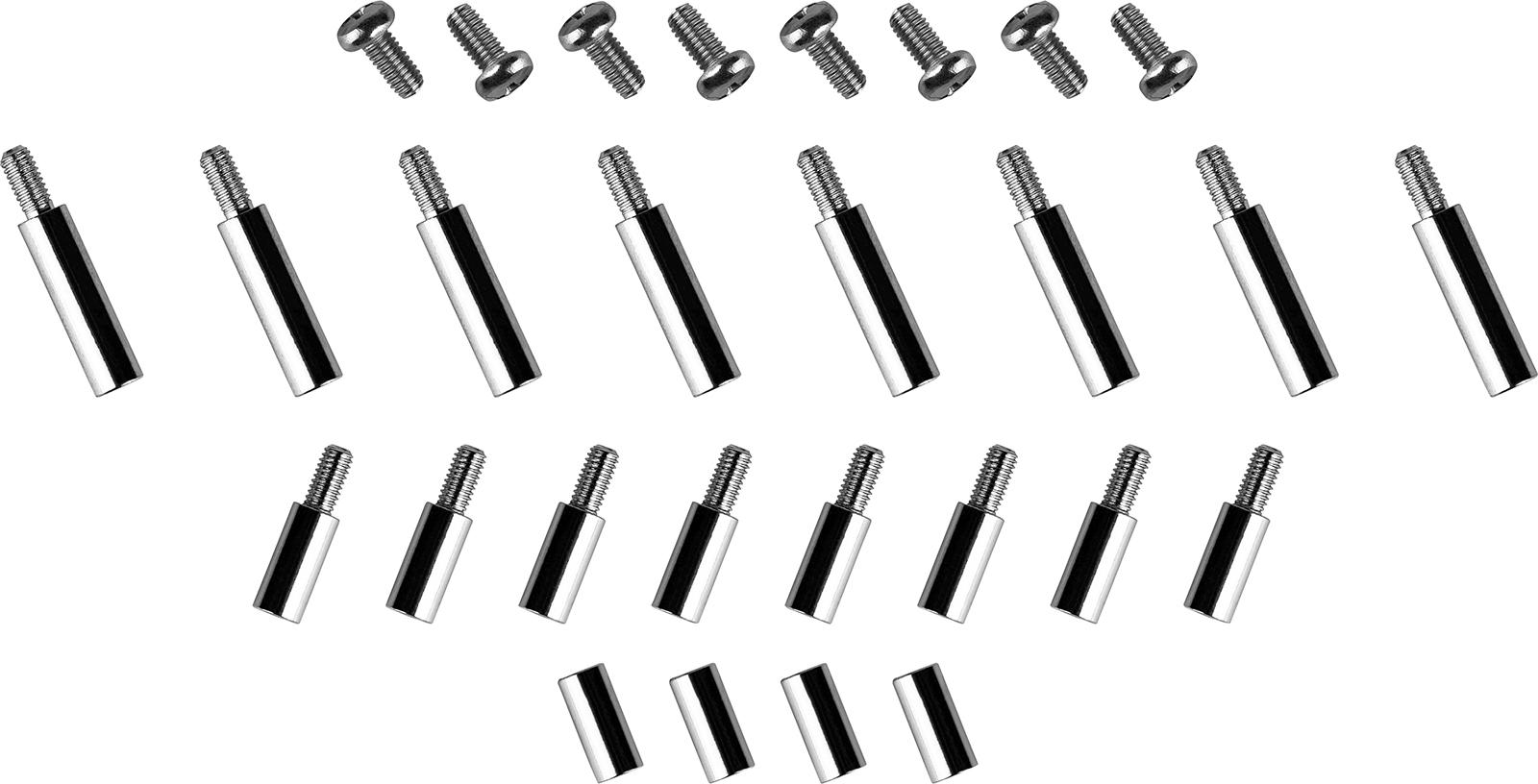 Optional Standoff Kit
The PC Board M3 Standoff Kit is perfect for stacking multiple PC boards that are the same size, like a DSPB amp board on top of the LBB-3 battery board. Stacking PC boards enables you to use a smaller project box to install your project in. These standoffs will secure a single PC board, or a stack, if you use it with KAB-AB mounting bracket. They both use the same M3 thread. The kit features eight 16mm studs, eight 10mm studs, 4 pcs 10mm, and 8 Phillips screws.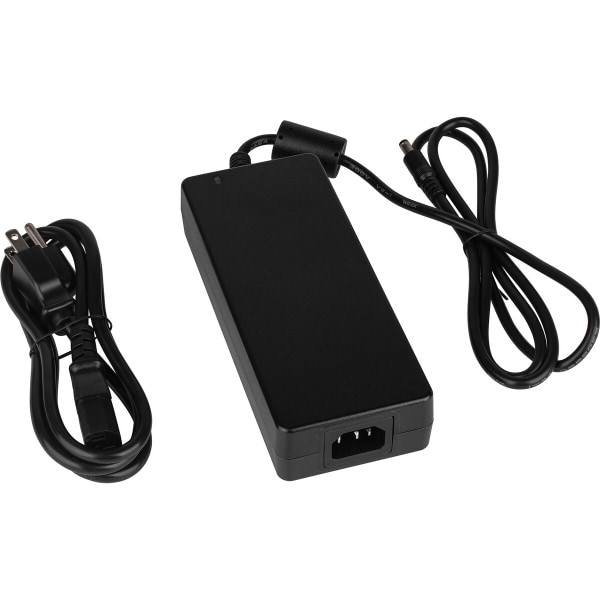 High Performance Power Supply
To meet the wattage output as listed in the specifications, using a 36 VDC 4.44A is recommended. The power supply accepts inputs 100-240 VAC. It features a 6 ft. detachable input cord, and a 2.5mm x 5.5mm x 9mm center positive plug 4 ft. output cord. Approved/listed by all major safety agencies; UL, CUL, and CE. This power supply can't be used with the optional LBB battery boards. They require 5 to 24 VDC power adapters.
| | |
| --- | --- |
| Model Number | KAB-2150 |
| Color | Red |
| Unit of Measure | Each |
| UPC | 848791009150 |
| Warranty - Parts | 5 Years |
| Warranty - Labor | 5 Years |
| Product Shipping Weight (lbs.) | 0.9 |
| Product Weight | -- |
| Product Height | -- |
| Product Width | -- |
| Product Length | -- |
| Product Depth | -- |