RC180-55 2" x 7" Res-Core Neodymium Woofer 4 Ohm
Quick Overview
Dayton Audio's revolutionary RC180-55 2" x 7" Woofer is designed around patented Res-Core™ technology by Resonado Labs to offer you the ability to create compact systems capable of exceptional low frequency response while producing lower distortion than ever. With a unique flat wound voice coil driven by a powerful quad gap neodymium motor, this high aspect ratio driver offers high excursion capability, minimal compression, and flat frequency response.
Product Highlights
Patented Res-Core™ technology turns the voice coil on its side for higher displacement and improved frequency response
Powerful quad gap neodymium motor keeps motor force constant beyond ±4.5 mm of excursion
Fully supported diaphragm minimizes breakup for extremely smooth response with low distortion
Long throw surround and huge rear mounted spider for unrestricted excursion with incredible linearity
Completely open design offers unmatched airflow and efficient cooling to allow high power handling
Perfect for compact systems that need to deliver powerful low frequency response
Product Manuals / Spec Sheets / Downloads
Dayton Audio RC180-55 Specification Sheet
Dayton Audio RC180-55 Data Files
Buying Options
Dayton Audio RC180-55 2" x 7" Res-Core™ Neodymium Woofer 4Ohm
As the only authorized distributor of this revolutionary raw driver, Dayton Audio is proud to bring the RC180-55 2" x 7" Res-Core™ Neodymium Woofer to DIY speaker enthusiasts worldwide. This driver literally turns the voice coil on its side, allowing more excursion with smoother response than other high aspect ratio drivers currently available. You now have the opportunity to enhance your audio experience by creating an exceptional compact speaker system capable of lower distortion and deeper bass than ever before. Order your Dayton Audio RC180-55 Res-Core™ neodymium woofer today and unlock the full potential of your DIY audio projects!
High-Performance, Compact Design
This high-performance compact woofer boasts a unique 2" x 7" racetrack shape, making it the perfect fit for soundbars, portable designs, and other compact speaker projects. With a frequency range of 40-2000 Hz, 30W power handling, and nearly 1" peak to peak excursion, you'll be amazed by the powerful low-frequency capabilities of this high aspect ratio driver.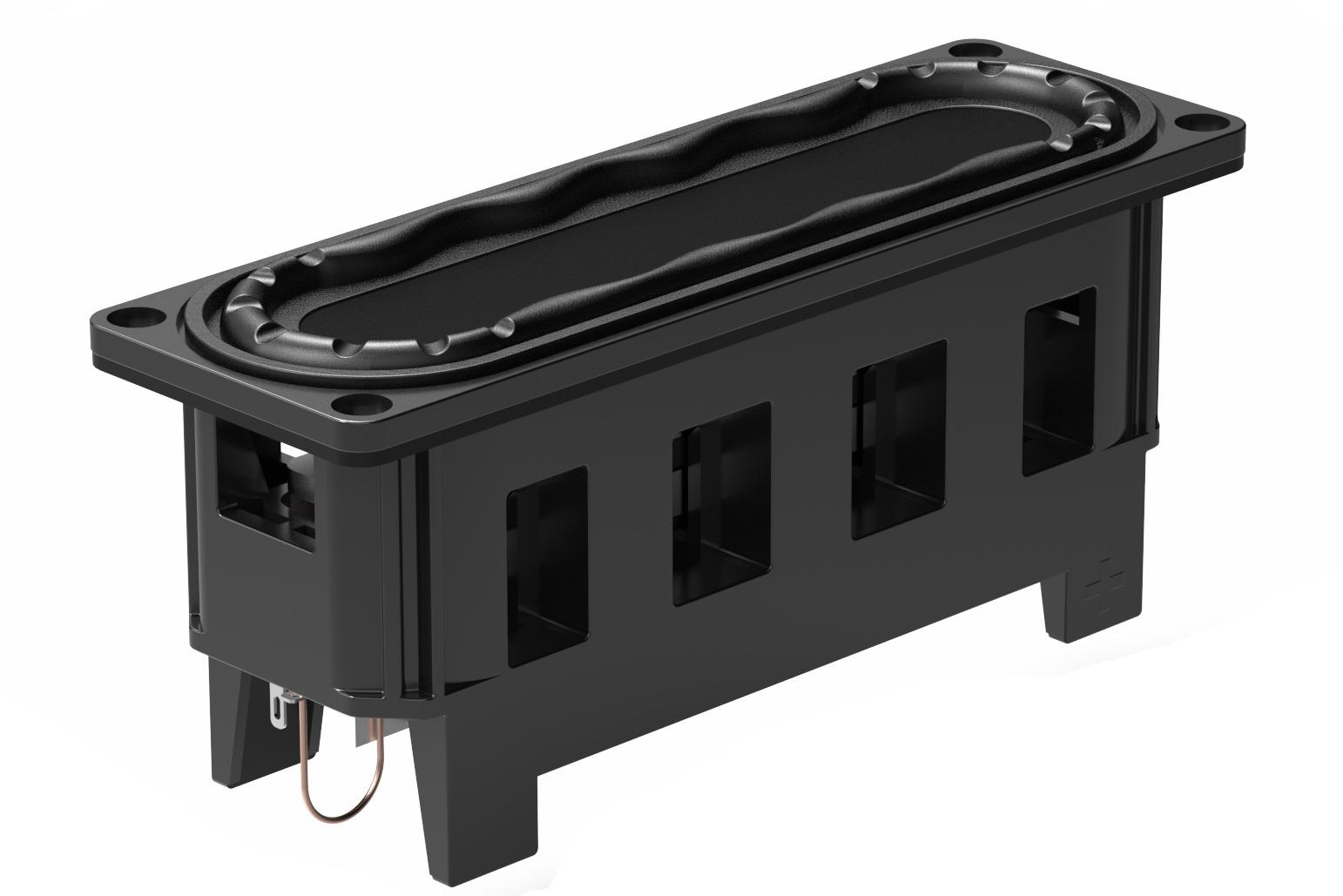 What is Different About the RC180-55?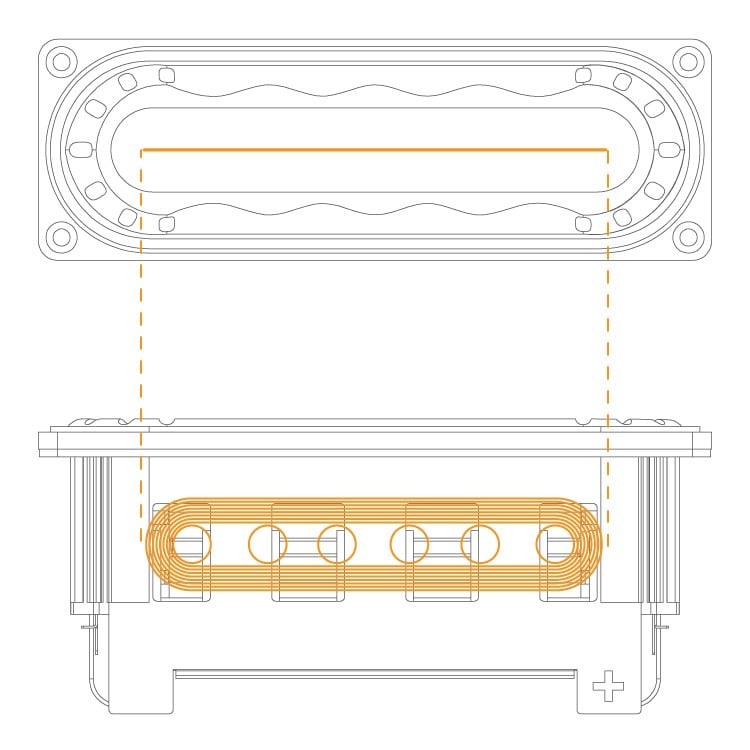 Flat Voice Coil
The dual sided flat wound voice coil and aluminum bobbin create an extremely tall winding length and perfectly supports the high aspect ratio racetrack shaped diaphragm.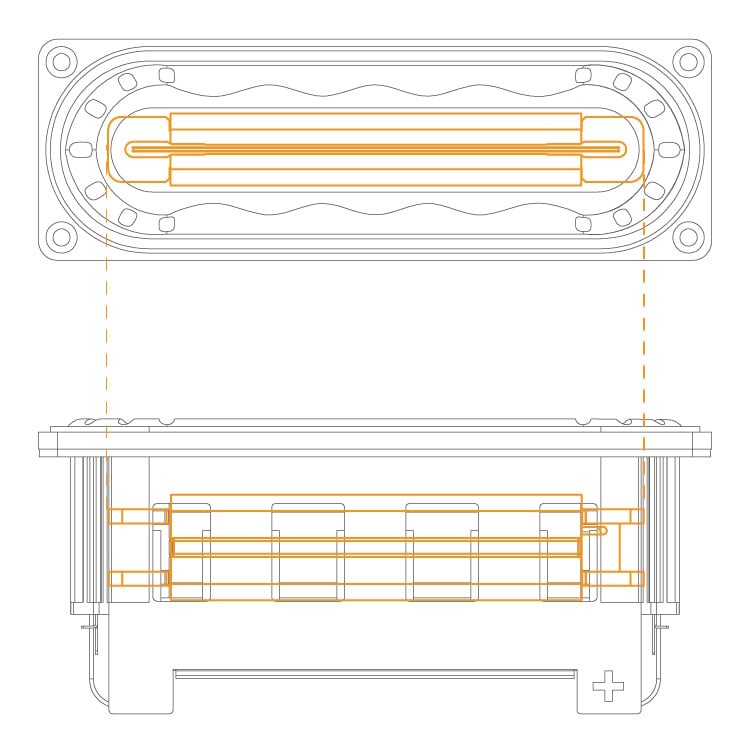 Quad Gap Motor System
The quad gap motor design creates an extremely long magnetic field in order to exhibit consistent motor force even while while being pushed to high excursion.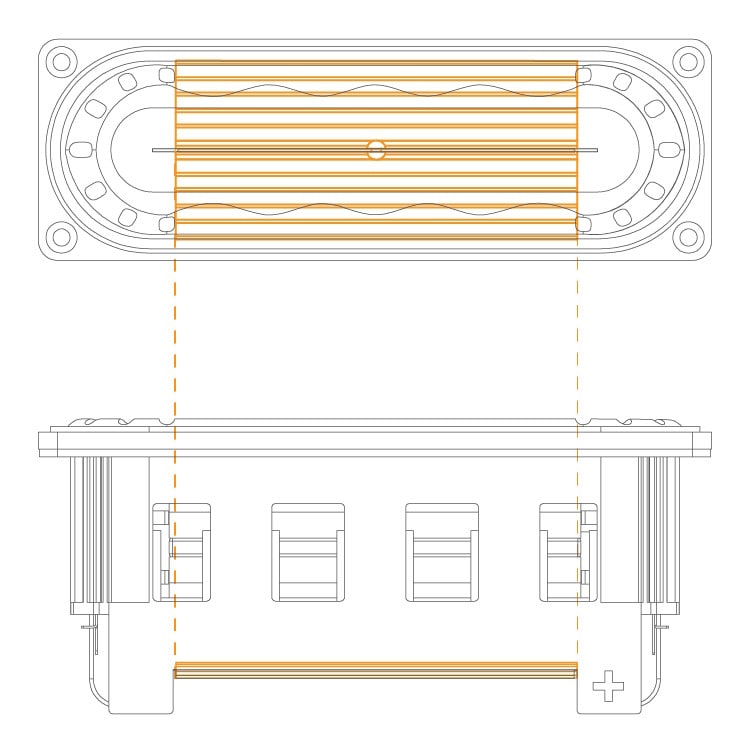 Long Throw Suspension
An optimized long throw surround and rear mounted spider maintain linear movement and consistent compliance during the extreme excursion required for high output low frequency response.
Key Specs:
Dimensions: 2-1/4" W x 6-15/16" L
Power Handling (RMS): 35
Power Handling (MAX): 70
Impedance: 4Ω
Frequency Response: 50 to 2,500Hz
Sensitivity: 79.6 dB @ 2.83V/1m
Xmax @ 82% BL: ±4.7 mm
Xmech: ±12 mm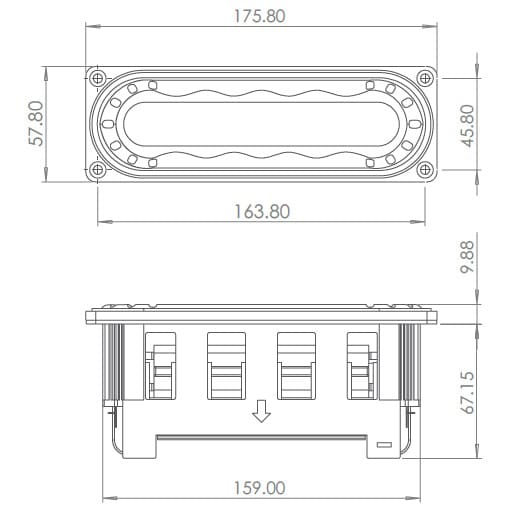 ---

The Dayton Audio RC180-55 utilizes patented Res-Core™ technology, setting a new standard for racetrack shaped speaker performance. Res-Core™ architecture features an open-air motor with neodymium bar magnets and quad magnetic gaps, dual shorting rings, a flat voice coil on a flat bobbin, fully supported flat diaphragm, and a huge rear mounted spider. This unique design allows the RC180-55 to produce the low distortion and high excursion that is necessary to deliver rich, dynamic audio that you have to hear to believe.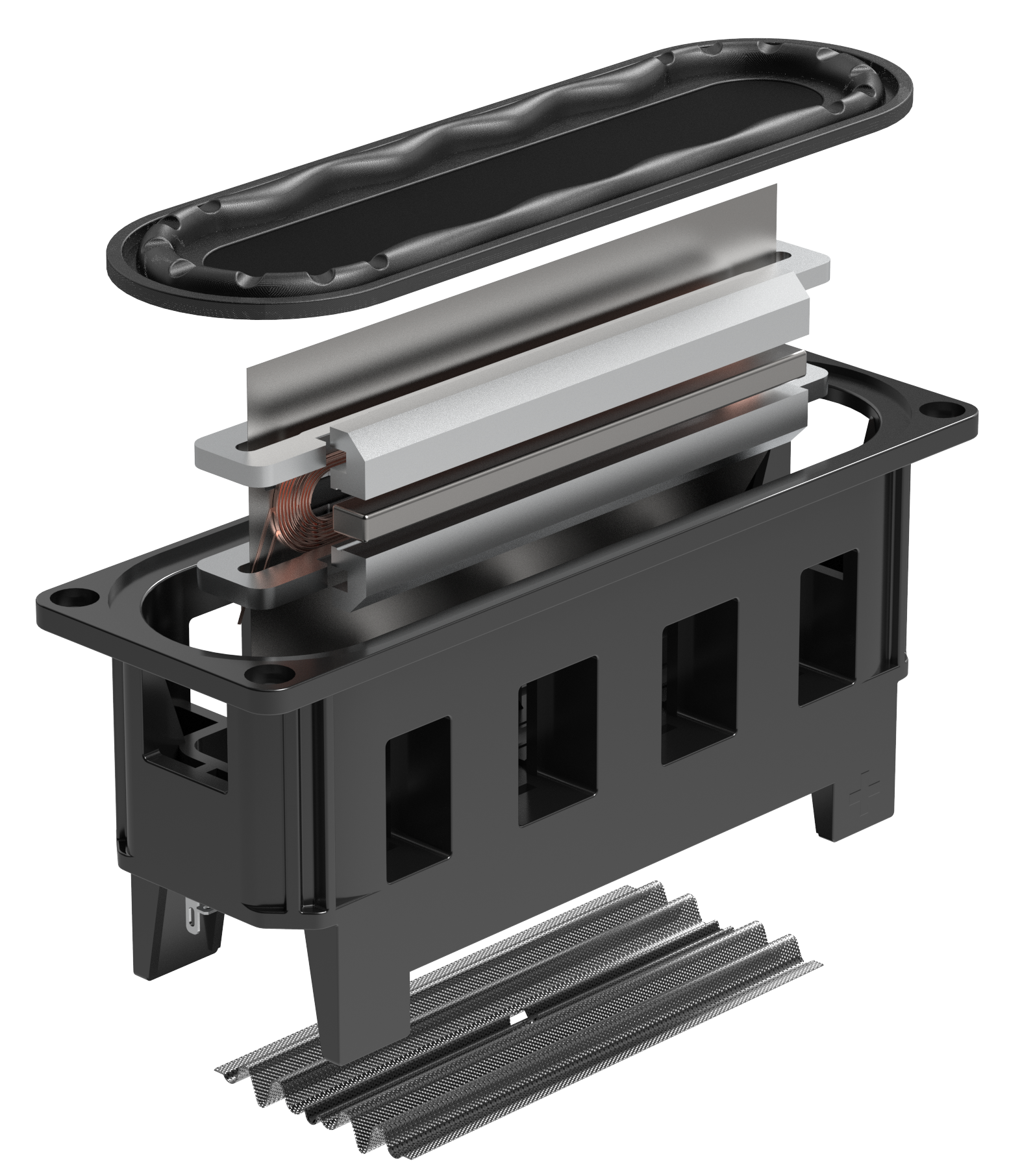 Fully Supported Diaphragm
Res-Core™ architecture is ideally suited to narrow racetrack shaped drivers. With a conventional round voice coil, the edges of the diaphragm bend and flex causing unwanted breakup and increased distortion. The Res-Core™ flat aluminum bobbin extends the full length of the diaphragm to provide equal force across the whole radiating surface. This ensures that the diaphragm moves in a truly pistonic behavior for improved frequency response, higher displacement, and lower distortion.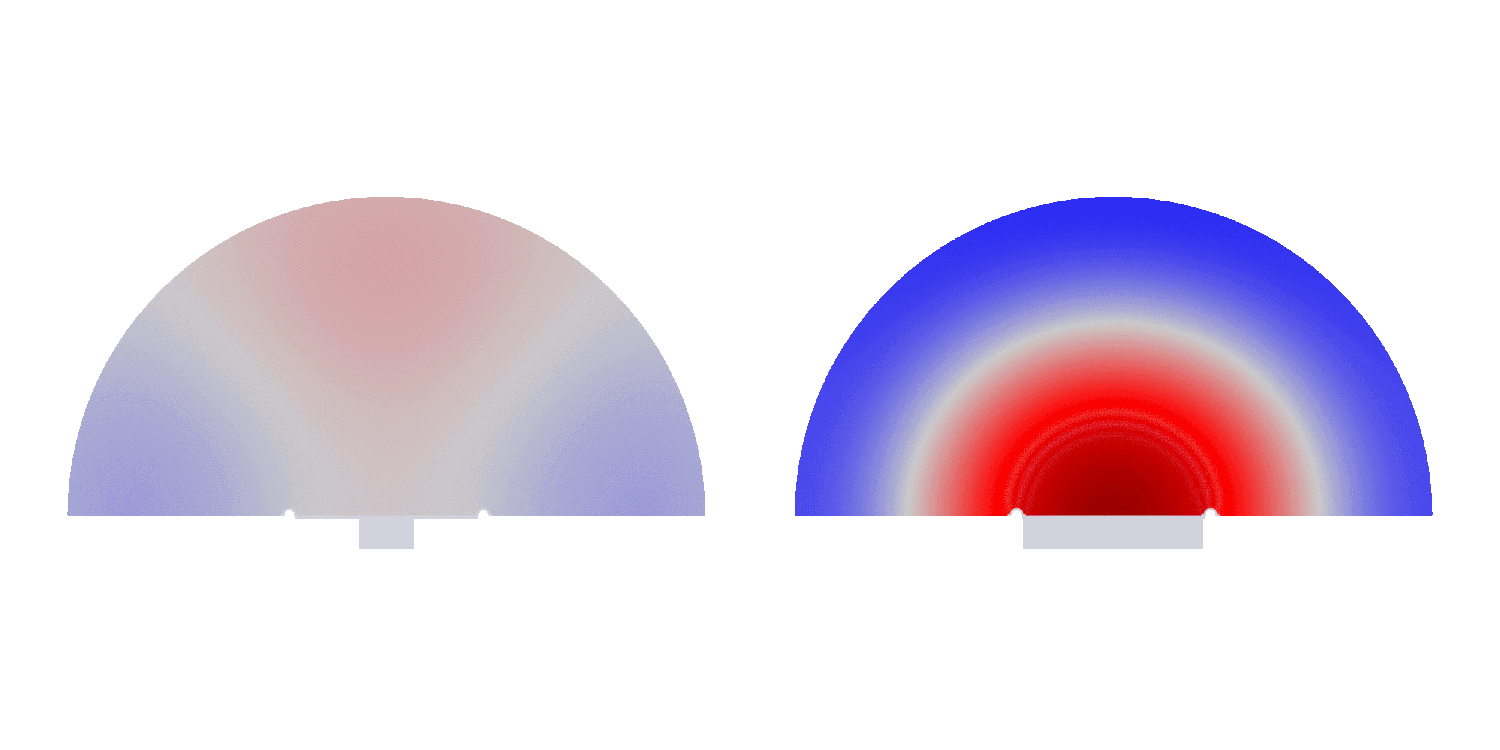 ---
Powerful Quad Gap Neodymium Motor
The tall winding height and thin profile of the flat wound voice coil is an ideal opportunity to employ a multiple gap motor system. A pair of powerful neodymium magnets are sandwiched between steel steel plates, each with dual magnetic gaps, to create tall quad gap motor that allows consistent motor strength as the coil travels up and down. This novel approach makes it possible for the RC180-55 to maintain nearly flat Bl all the way up to ±4.5 mm of excursion. Thanks to consistent motor force, this driver will produce minimal amplitude and intermodulation distortion even when pushed to incredible levels of displacement. Also, the voice coil and motor are completely open for the efficient heat dissipation that is required for high power handling with low power compression.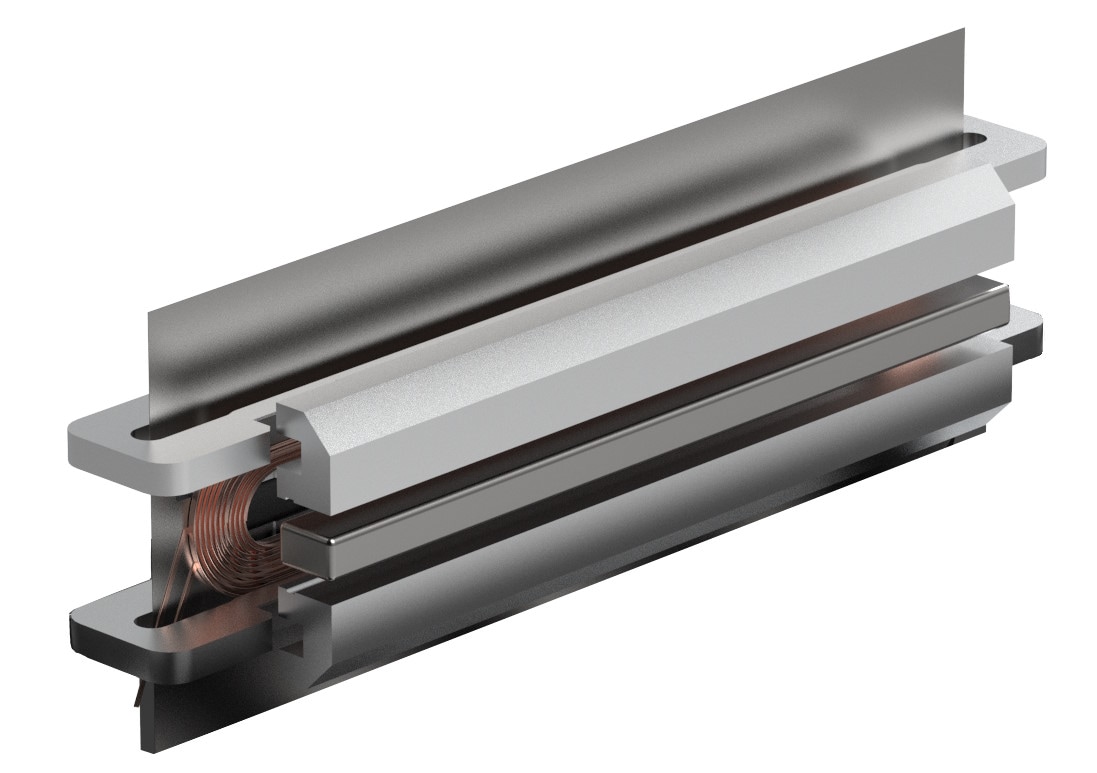 ---
Long Throw Suspension
In order to keep all this potential excursion under control while maintaining liner voice coil travel, the RC180-55 has a long throw suspension unlike any other. The surround has been optimized to keep any surface area modulation to an insignificant level, even when driven to high excursion. Actually wider than the cone and running entire the length of the aluminum bobbin, the huge spider is mounted behind the voice coil for maximum linearity. With ample space and deep convolutions, the spider maintains its level of compliance while allowing a peak to peak mechanical travel of nearly 1". This one of a kind arrangement further reduces amplitude distortions to guarantee incredible dynamics and remarkable output capability.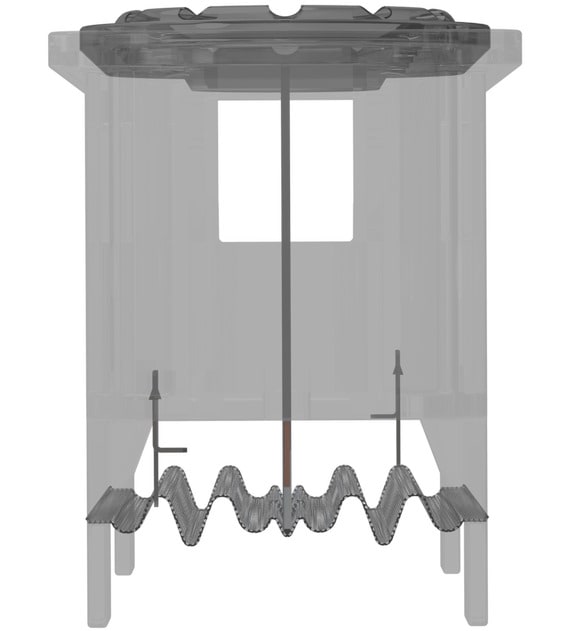 ---
Excellent Off-Axis Frequency Response
With predictable on and off-axis frequency response, the RC180-55 is the perfect driver for any designs requiring wide dispersion, such as sound bars, portable Bluetooth systems, and powered smart speakers. In the vertical orientation the overall response remains consistent even at 45° off-axis.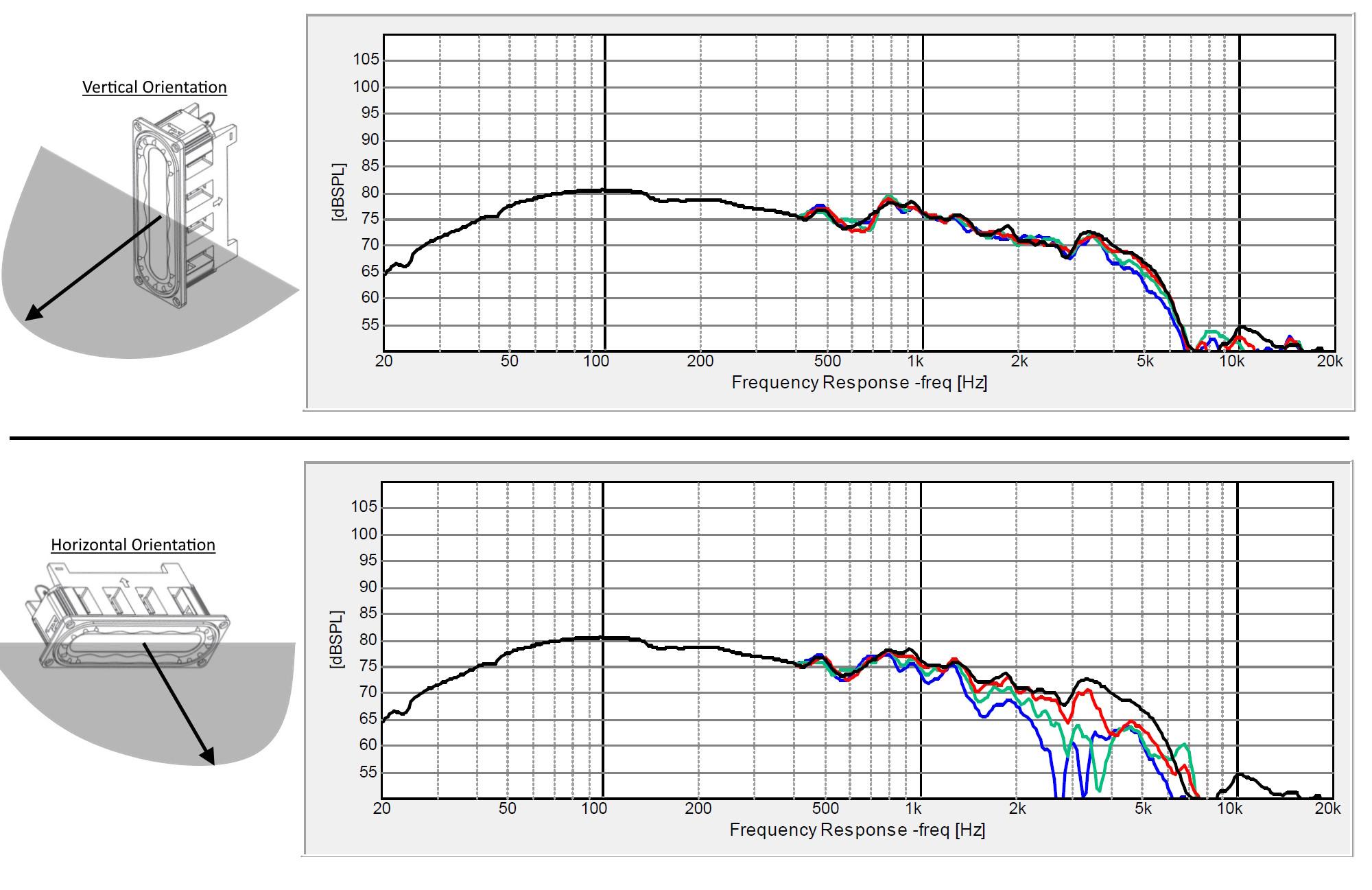 ---
<
| | |
| --- | --- |
| Speaker Series | -- |
| Model Number | RC180-55 |
| Color | Black |
| Unit of Measure | Each |
| UPC | 848791008030 |
| Warranty - Parts | 5 Years |
| Warranty - Labor | 5 Years |
| Product Shipping Weight (lbs.) | 1 |
| Speaker Type | Woofer |
| Nominal Diameter | 2" x 7" |
| Power Handling (RMS) | 35 watts |
| Power Handling (max) | 70 watts |
| Continuous Program Power | -- |
| Impedance | 4 ohms |
| Sensitivity | 79.6 dB @ 2.83V/1m |
| Frequency Response | 50 - 2,500 Hz |
| Voice Coil Diameter | -- |
| Magnet Weight | -- |
| DC Resistance (Re) | 3.3 ohms |
| Voice Coil Inductance (Le) | 0.1 mH @ 1 kHz |
| Resonant Frequency (Fs) | 52 Hz |
| Mechanical Q (Qms) | 3.31 |
| Electromagnetic Q (Qes) | 1.23 |
| Total Q (Qts) | 0.89 |
| Diaphragm Mass Inc. Airload (Mms) | 20.1g |
| Moving Mass Of Diaphragm (Mmd) | -- |
| Mechanical Compliance of Suspension (Cms) | 0.46 mm/N |
| Surface Area Of Cone (Sd) | 56.4 cm² |
| Volume of Displacement (Vd) | 26.5 cm³ |
| BL Product (BL) | 4.23 Tm |
| Compliance Equivalent Volume (Vas) | 2.04 liters |
| Maximum Linear Excursion (Xmax) | 4.7 mm |
| Drivers Mechanical Losses (Rms) | -- |
| Cone / Diaphragm Material | Paper |
| Entry / Exit Diameter | -- |
| Surround Material | Rubber |
| Voice Coil Wire Material | -- |
| Voice Coil Former | Aluminum |
| Basket/Frame Material | Polymer |
| Magnet Material | Neodymium |
| Overall Outside Diameter | 175.8 mm x 57.8 mm |
| Overall Depth | 77 mm |
| Baffle Cutout Diameter | 159 mm x 50 mm |
| # Mounting Holes | 4 |
| Mounting Hole Diameter | -- |
| Bolt Circle Diameter | -- |
| Product Weight | -- |