Matrix88 8-Source 8-Zone App Controlled Matrix Audio Switcher
Quick Overview
Experience simple but powerful control of your new or existing distributed audio system using the Matrix88 Network Controlled Matrix Audio Switcher. Featuring 8 zones of inputs and outputs, 12V trigger outputs, and RS232 support, the Matrix88 is designed to provide a large feature set that can be controlled via the Dayton Audio Matrio app.
Product Highlights
Easy to Upgrade: Combine the Matrix88 with any new or existing audio amplification system to gain full matrix control via the Matrio app
Total Control: Assign any input to any output, adjust volume, bass, treble and control on/off power by zone -- all through the intuitive app
Super Compatible: A variety of analog, digital and streaming inputs make it easy to connect nearly any audio source to the Matrix88
Streamlined Operation: Utilize 12V triggers, RS-232 control and mute functionality for efficient usability of your audio system
Extremely Customizable: Connect any amplifier (stereo, mono, subwoofer, 70V) to create an audio experience that best suits your space
Infinitely Expandable: The expandability of the system is only limited by your network; add as many Matrix88's as needed and control it all through a single app
Convenient Accessories: Add in-wall keypads and IR remote controls to zones for the same level of adjustment provided by the app

Product Manuals / Spec Sheets / Downloads

Dayton Audio Matrix88 User Manual




Dayton Audio Matrix88 Quick Start Guide



Buying Options
Dayton Audio's Matrix88 8-Source, 8-Zone Distributed Audio Matrix Switcher hands you the definitive multi-zone Wi-Fi audio experience. Whether installed for residential or commercial use, the Matrix88 provides sonic freedom. Plain and simple.

Freedom in Simplicity
The Matrix88 offers a wide array of analog and digital inputs, including integrated Wi-Fi (AirPlay, Spotify Connect, DLNA) streaming options. Featuring a dedicated Wi-Fi channel, the Matrix88 allows you to stream your favorite music directly from your preferred streaming service through AirPlay, Spotify Connect, and DLNA. With access to streaming services such as Spotify, Apple Music, Amazon Music, TIDAL, iHeartRadio, and TuneIn, the musical world is in your control. (Additional hardware and or paid subscription may be required for Amazon Music, and other streaming services if you are using Android devices.)
Analog input options, including four stereo RCA, seven 3.5 mm, and two optical connections, ensure you can use virtually any input source from TVs to media players and additional Bluetooth adapters. The output flexibility that the Matrix88 provides lets you integrate the Matrix88 into an existing design.
Control your entire audio system through the Matrio™ by connecting a Matrix88 to an existing whole house or commercial amplifier. You can add a Matrix88 to any 12-channel amplifier, a series of amplifiers, or even to a 70V amplifier system with ease. Link multiple Matrix88 units to your network in order to gain full control with the Matrio™ app.
Suppose you have more than eight zones that need audio. In that case, this expansion capability ensures you never run out of audio options. For ease of installation, the Matrix88 is able to connect to your network wirelessly or through the ethernet port in the rear of the unit and for maximum level of controllability, an RS-232 port in the back allows external control and automation systems to manage the Matrix88 guaranteeing complete integration.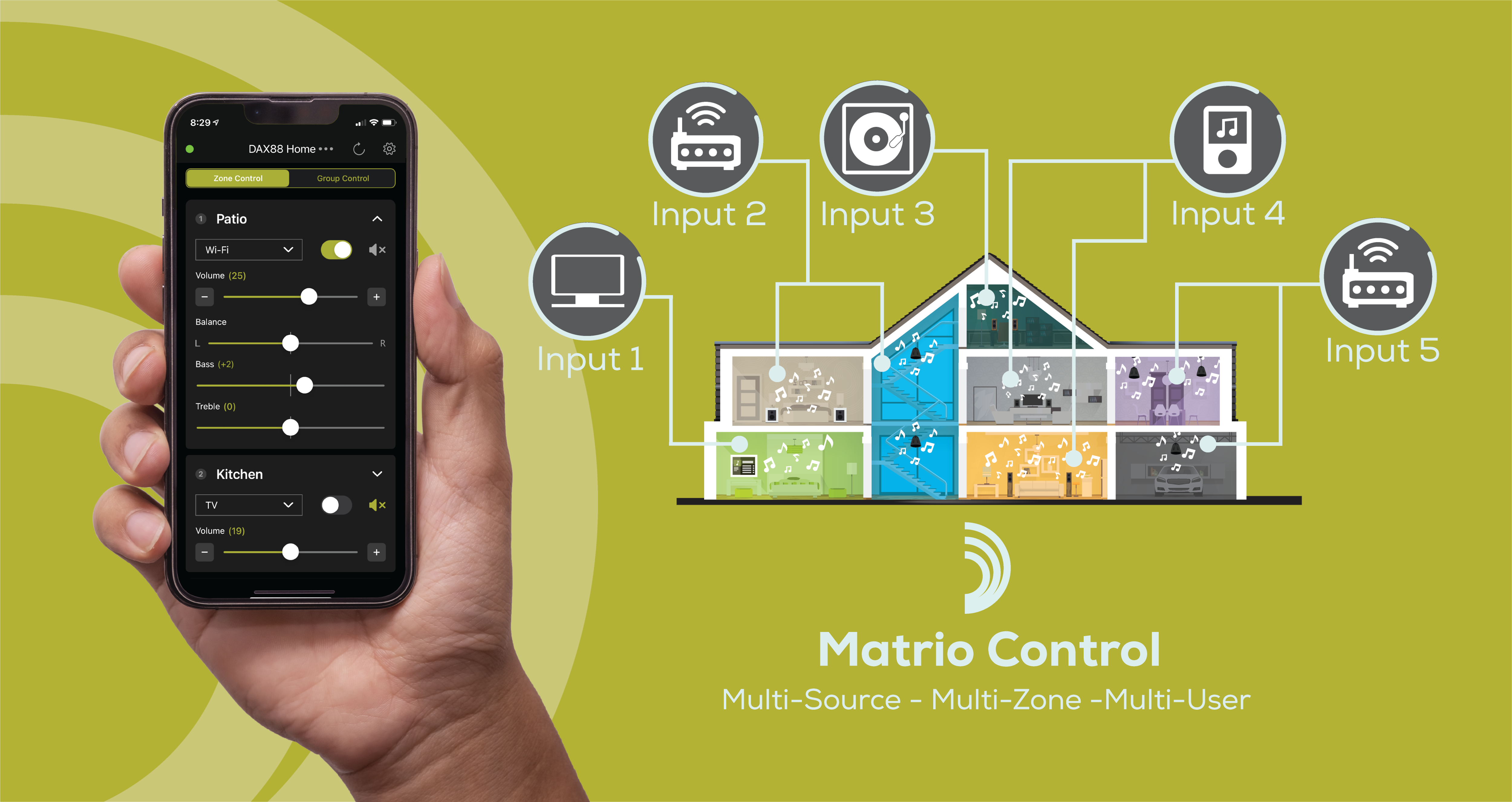 Dayton Audio's Matrio™ mobile app simplifies your audio system by giving you, and other users access to multi-zone control from your mobile devices. With the ability to select between eight sources and eight zones, Matrio™ streamlines personalized audio experiences across multiple rooms. Matrio™ allows you to change sources, and adjust volume, tone, and balance for zones, as well as group zones. Enjoy whole-home audio immersion without needing to move from where you are.
Group Control
In addition to individual zone control, Matrio™ gives you the ability to group multiple zones for streamlined command. The Group Control menu allows you to adjust all possible zone settings, including power on/off and mute on/off. From the menu, you can also sync volumes and input sources across grouped zones. Choose any combination of zones from all Matrix88 units in your network for custom group control.
Zone Control
Matrio™ gives you complete command over each of your eight output zones. The Zone Control menu allows you to adjust all possible zone settings, including power on/off, source selection, volume control, and mute on/off. Additional functions, including bass, treble, and the left/right balance, are available for each zone. Matrio™ features a simple to navigate interface that gives you streamlined control over your Matrix88.

Personalization at your fingertips
Customize all of your source, zone, and device names to ensure that you can quickly identify zones and inputs. Name each of the eight zones to keep track of what zone you are controlling. Custom zone names help when grouping zones together to ensure you select the correct zone combination. The custom names, changeable at any time, appear in Matrio™ for all users on your network.
Demo Matrio Now!
Download the app for free from the iOS App Store or Google Play and fully explore Matrio™ in demo mode without a Matrix88 unit.
Remote and Keypad Control
If you need quick, accessible zone control, the Matrix88 gives you the ability to access total command of the Matrix88 via in-wall keypads. You can connect up to eight keypads throughout your home or business that give you direct control over volume, power, bass, treble, mute, and source selection. The keypad has a built-in IR target for use with the Matrix88 remote. Also, the keypad has an external IR target terminal if you want to use an additional target in another location.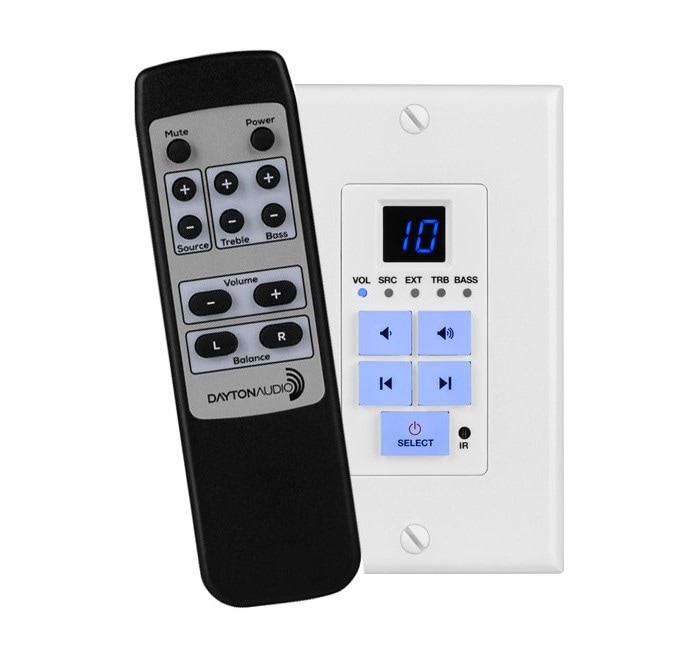 Inputs: 4x RCA, 7x 3.5mm, 2x Toslink Optical
Outputs: 8x Stereo RCA, 2x Toslink Optical
Trigger System: 12V
Frequency Response: 20 - 20,000Hz
Power Supply (Switchable): 115VAC/60Hz, 230VAC/50Hz
Standby: 120 Mins
| | |
| --- | --- |
| Model Number | Matrix88 |
| Color | Black |
| Unit of Measure | Each |
| UPC | 848791008764 |
| Warranty - Parts | 5 Years |
| Warranty - Labor | 5 Years |
| Product Shipping Weight (lbs.) | 12 |
| Product Weight | -- |
| Product Height | -- |
| Product Width | -- |
| Product Length | -- |
| Product Depth | -- |